13 New Year's Cocktails If Champagne Isn't Your Thing
Two words: Spiked. Cocoa.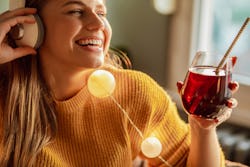 blackCAT/E+/Getty Images
If you don't want to end 2021 without a drink in your hand, you've come to the right place. This New Year's Eve is all about celebrating what's hopefully to come and cheers-ing away this year. However, if popping bottles isn't your thing even at the New Year, have no fear because there are plenty of New Year's cocktails that don't use champagne. While a champagne-less NYE celebration may be sacrilegious to some, there is no judgment for your particular drink palette here.
Want to get an early start on Dry January? You can certainly do that as well. There are plenty of non-alcoholic holiday drinks that look gorgeous and taste delicious. If you do want to imbibe, you can use those as a base for your spirit of choice. Heck, combine a White Claw with a La Croix and call it good. Both 2020 and 2021 have rid us of any and all rules especially when it comes to our mixed drinks.
Whether you prefer to cozy up to a warm cocktail or believe that margaritas are a year-round treat, you'll find something on this list that you'll want to have on hand at 11:59 p.m. on Dec. 31. Here are 13 cocktail recipes for New Year's that are perfect if you're not into champagne. Cheers!
If all else fails, you can't go wrong with some Baileys on the rocks.
Readers should note that laws governing cannabis, hemp, and CBD are evolving, as is information about the efficacy and safety of those substances. As such, the information contained in this post should not be construed as legal or medical advice. Always consult your physician prior to trying any substance or supplement.
This article was originally published on