12 Hilarious Leslie Knope Quotes To Use As Galentine's Day Instagram Captions
"I am a Goddess, a glorious female warrior."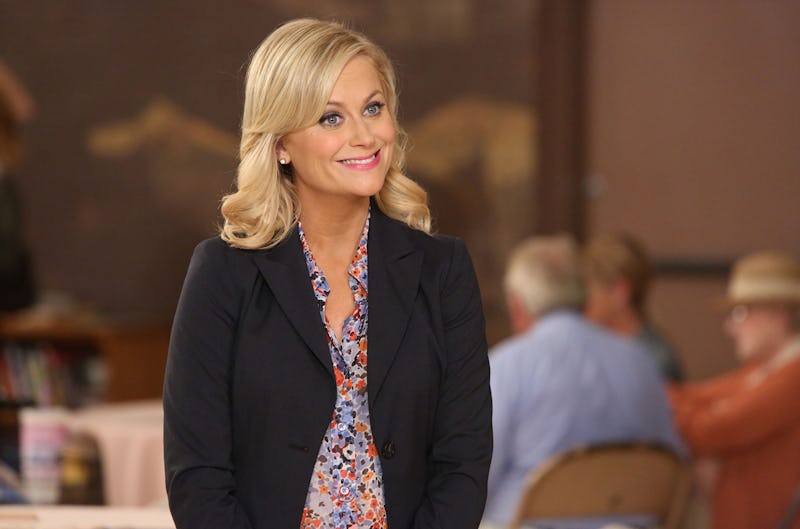 NBCUniversal Television Distribution
At this point, you've likely heard the phrase "Galentine's Day" at least once, and this is all thanks to one very important fictional character: Leslie Knope from Parks and Recreation, played by Amy Poehler. In one episode of the show, Leslie Knope introduces viewers to her version of the day before Valentine's Day, which she calls Galentine's Day: A day to celebrate her wonderful lady friends. Today, thanks to the show, Galentine's Day is celebrated every year on Feb. 13, and if you're celebrating this year, you're probably going to want to make a cute Instagram post out of it. Luckily, we have some Leslie Knope quotes for Galentine's Day that make perfect Instagram captions.
Galentine's Day doesn't have to fall on Feb. 13 — it can fall on any of the days around it if you want, or even on Valentine's Day itself. All that matters is who you're celebrating with. This is a day dedicated to your friends and family members, the women who helped make you who you are today. This might be your mom, your grandma, your aunt or close cousin, your best friend, a bunch of best friends, maybe an inspiring co-worker or two. Basically, you're all just supposed to celebrate your friendship by having a good time hanging out. And, if you want to do it like Knope, you can include cute little gifts meant to make each other feel good, and a huge breakfast that includes waffles, because obviously.
Since Galentine's Day is basically all about ~girl power~, it makes sense to use some feminist-friendly Knope quotes as your Instagram caption. Why not borrow from the queen of Galentine's Day herself,? Leslie Knope is known for saying some of the most inspiring, yet ridiculous-sounding phrases ever, which makes them perfect for an Instagrammable photo of you and your best friends. Check out some of our favorites below.
This article was originally published on