The Life Path 8 Meaning, Explained
The boss, the leader, the achiever.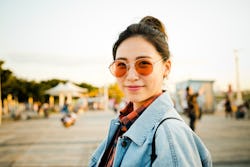 izusek/E+/Getty Images
Your personal numerology chart can uncover a ton of metaphysical information about the energies that impact you, and calculating your life path number can be a useful tool to understand yourself on a spiritual level. Similar to how zodiac signs embody a set of strengths and weaknesses, your life path number consists of specific qualities that have a powerful influence on your life. If you're a life path 8, then your values and mission are connected to discipline, success, and influence.
If you calculate your life path number and find you're an 8, it means you're driven by the idea of being accomplished in life. Life path 8s are highly ambitious and skilled, traits that are due to their diligent self-discipline and their need for success.
"People with a life path number 8 include entrepreneurs, influencers, self-employed business owners, and spiritual seekers," Ryan Hart, a numerologist and spiritual author, tells Bustle. It's important for life path 8s to have a sense of authority, and you can find them fulfilling leadership roles or taking on a lot of responsibilities. Because money and control are central to their core values, the unique journey of a life path 8 involves stepping into their power and using their influence responsibly.
Keep reading for more details the life path number 8 meaning and how these themes manifest in your life.