How To Reinvent Yourself By Using Manifestation
Be unapologetic and put yourself first daily.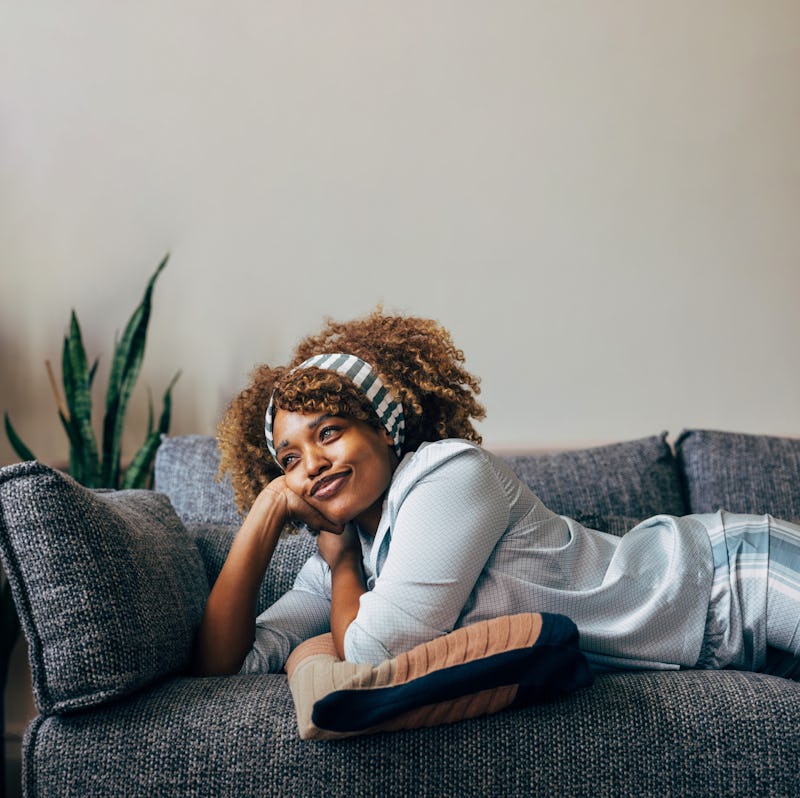 FreshSplash/E+/Getty Images
We may receive a portion of sales if you purchase a product through a link in this article.
Nothing proves we can accomplish anything we put our minds to more than manifestation. Whether you use tactics like the pillow method or wait for a full moon to visualize your future reality, there are so many ways to use the spiritual practice to achieve your dream life. But manifestation isn't the only way people are accomplishing their aspirations.
Author and former Vogue editor Maureen Lippe manifested a new chapter in her life through reinvention, and now, she's ready to tell her story. Lippe's latest book, Radical Reinvention: Reimagine, Reset, Reinvent in a Disruptive World is a personal recount of Lippe's own journey to self-discovery after the loss of her husband and the re-imagination of her company in the wake of his passing. As a result, Lippe created an 8-step reinvention toolkit to help discover new facets, talents, and strengths about herself she never knew she had.
As a firm believer in the power of manifestation, the author relied on the practice heavily when she first embarked on her reinvention journey. By using manifestation along with meditation, Lippe was able to feel safe and optimistic as she navigated through her self-realization. "It [Manifestation] gave me new internal power and I became unapologetic in embarking on a new life of purpose and service," she tells Bustle. Just because she's in a great place now doesn't mean she hasn't abandoned the practice, though. "I have manifested daily that I will never let myself fall deep again," says Lippe.
Because manifestation had so much influence over her healing process, it only makes sense that the spiritual practice and Lippe's 8-step toolkit share similarities. For starters, they both inspire people to be specific about what it is they want in life. "All of us already have the tools within us to make a radical reinvention," Lippe says. What we choose to do with those tools is a different story.
Having the courage to change your circumstances is half the battle — but so is recognizing when it's time for a change. When you're in a certain era of your life, it can be difficult to step outside yourself and reevaluate. But according to Lippe, there are plenty of signs that indicate you're ready to reinvent your life. "When you feel alone and know nobody is listening or sees you and life just feels heavy and unbearable, that's when you know you're in trouble," Lippe reveals. "It can also be a series of setbacks leading to a lot of confusion, forced action, and meaningless days and relationships that have railroaded your life."
The expert also explains that feeling stagnant in your work or relationships may also be a sign you need to switch up your situation, or if "the person you see in your head isn't always the one looking back at you in the mirror." If you find yourself experiencing any of these indicators, Lippe suggests unlocking your "full potential" through change. Though it sounds scary, the author assures that a change can be as small as getting a haircut or planning out your next career move. Whatever your next change looks like, just make sure you're not settling for less than you desire.
If you're aware it's time for a change but are too scared to take the next step, Lippe suggests converting those fears into courage in a way that works best for you, whether that be through therapy or another avenue. "You must allow yourself to be vulnerable and have the personal confidence to know you will heal and find the personal power to live the great and rewarding life you deserve," says Lippe. "It takes brave work and it's not easy and it can get messy."
Radical Reinvention: Reimagine, Reset, Reinvent in a Disruptive World is available now on Kindle for 99 cents.
Source:
Maureen Lippe, author of Radical Reinvention: Reimagine, Reset, Reinvent in a Disruptive World