The Spiritual Meaning Of The May Full Flower Moon
Plus tips for harnessing its Scorpio energy.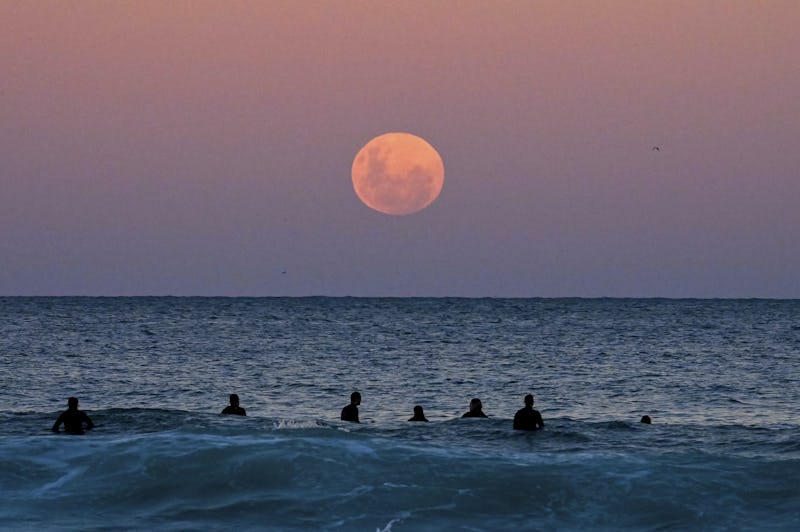 Anadolu Agency/Anadolu Agency/Getty Images
The May full moon, known as the Flower Moon, arrives on May 5 at 1:24 p.m. ET, and emotions will be running high. Not only because la luna will be in moody Scorpio, but because it will also be a penumbral lunar eclipse. Like all full moons, the celestial event is the perfect time to cut ties with everything that's no longer serving you. Of course, that's a lot easier said than done, but maybe once you know the spiritual meaning of the May 2023 full Flower Moon, you'll understand why it's so important.
Though spring may still be in bloom, it's time to close the chapter on another season of your life. Full moons only occur at the end of a lunar cycle, which means you can expect this lunation to come with many conclusions. Endings aren't always easy, though, so make sure you have the tissues and your fave reality show (Vanderpump Rules, anyone?) at the ready, because it's sure to be an emotional one. Astrologer Brilla Samay warns that our karmic journeys for the May 5 event may even involve facing "inner darkness and transforming it into something positive and empowering," and although that may sound scary, it's definitely necessary. "Through spiritual growth, we can learn to let go of past misjudgments, release negative emotions, and embrace a more positive future," says Samay.
To face this emotional lunation with ease, here's what you need to know about how the eclipse will impact the full Flower Moon, and how to harness its energy.
What's The Spiritual Meaning of the Flower Moon?
According to the Farmer's Almanac, the Flower Moon gets its name from the beautiful blossoming flowers that spring is so well known for. The flora-inspired name is attributed to the Algonquin people, though the lunar event may also be referred to as the Budding Moon or Planting Moon.
As for how this lunation will affect the eclipse, Samay shares: "When a lunar eclipse occurs in Scorpio, it can bring about an intense karmic shift towards our psyche, finances, sexuality, and willpower. This means full disclosure and exposure will take place in 'errors' of the past."
Some areas of your life that will likely need reevaluating during this time include finances, power dynamics, and even hygiene, per the astrologer. "Expect to see discussions on political power struggles, or hidden agendas in the collective consciousness," Samay shares. But don't expect the days leading up to May 5 to be packed with life-changing events, because according to Samay, the effects of an eclipse can be seen "two weeks to two months before and after the fated date." In other words: get ready for miracles and unexpected shake-ups all throughout May.
How To Work With The Full Flower Moon's Energy
As you can probably tell, there's going to be a lot of energy surrounding this full Flower Moon. Samay shares three tips on how to work with la luna's power that will not only help keep you grounded but will prepare you for what's to come, too.
The first thing the astrologer suggests for this eclipse is to make a full moon offering. "Choose an object or symbol that represents your spiritual goals or intentions, such as a crystal or a piece of jewelry," explains Samay. "Place the object outside under the moonlight as an offering to the divine. This act of surrendering something of value can help you let go of attachment and open yourself up to the transformative power of the full moon."
Because water is a "powerful element that is associated with emotions and intuition," another way to build your spiritual connection with la luna is by taking a full moon bath, according to Samay. To do this, visualize the moon's energy washing over you while soaking in the moonlight as a way of cleansing any negative energy or emotions. "Use this time to set intentions for your spiritual growth and transformation," says Samay.
Lastly, try not to shy away from the full moon's energy, and instead embrace it. To do this, Samay recommends taking a moment to dance in the moonlight. "Play music that resonates with you and dance under the moonlight," the astrologer suggests. "Allow yourself to move freely and express any emotions that come up. Through the evoking movement of dance, you can connect with the lunar symphonies to transmute any stagnant or stale energy into something beautiful and transformative."
The most important thing to remember this lunation is to welcome every shift and emotional response you may encounter. Again, that's easier said than done, but hopefully these tips will make the impending celestial event much more manageable.
Source:
Brilla Samay, astrologer, mentor, and spiritual advisor