Tom Sandoval & Raquel Leviss' Affair Was Hiding In Plain Sight On Vanderpump Rules Season 10
There have been hints about #Scandoval throughout the show's new season, and it's just getting started.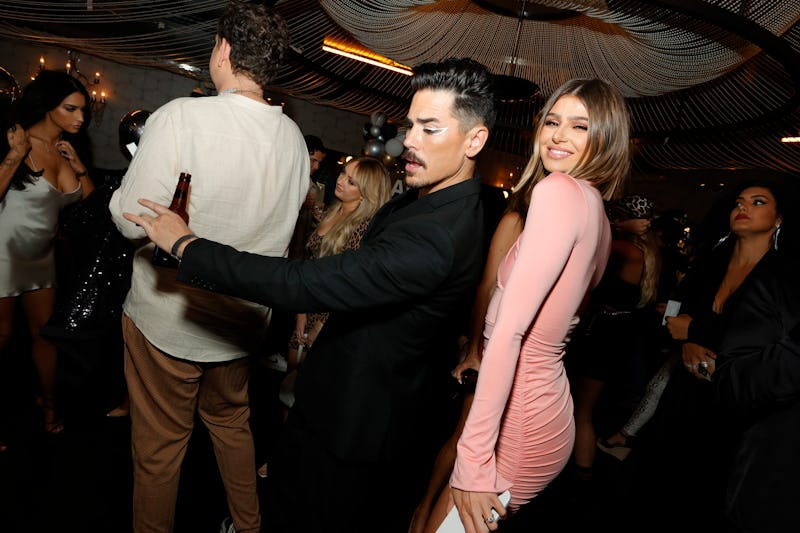 Amy Sussman/Getty Images Entertainment/Getty Images
Nothing has rocked Vanderpump Rules quite like #Scandoval — and it's not even featured on the show yet. On March 3, nearly a month after the Season 10 premiere, TMZ broke the story that Tom Sandoval and Ariana Madix had split after nearly a decade of dating. Madix discovered Sandoval cheated with co-star Raquel Leviss, in what has turned out to be a full-blown affair lasting several months.
The story especially shocked fans because Leviss had been openly crushing on Tom Schwartz, who was navigating a divorce from Katie Maloney after five years of marriage, making fans wonder if their little fling was an intentional diversion of what was actually happening off-camera. Naturally, fans are now watching Season 10 in a completely different light, scouring episodes for hints that Sandoval and Leviss' affair may have been happening while the show was filming.
If timelines reported by People and James Kennedy via DeuxMoi DM are correct, Sandoval and Leviss would have been filming at least part of the season while engaging in an off-camera affair, but this has yet to be confirmed. While their castmates clearly weren't suspicious while cameras were rolling, there are more clues of their relationship than you may think. Here's every potential hint about #Scandoval hiding within plain sight on Vanderpump Rules Season 10.
Episode 3
Schwartz and Leviss' situationship (or whatever you want to call it) truly kicked off in the season's third episode, when Leviss admitted that she had a crush on Schwartz and said Scheana Shay put the idea in her head. Before heading to Sandoval's band's show, Leviss and Schwartz admitted that they had an "innocent" flirtation between them, but things almost got heated later that night when she straight up asked him if he wanted to make out. Schwartz declined, wanting to respect his ex-wife's boundaries — but not before he asked if cameras were still filming.
Episode 4
Schwartz and Leviss both recounted the previous night to separate friends. When Schwartz remarked that he wanted to respect Maloney's request that they don't date other people within their mutual friend group, Sandoval replied, "That's just not realistic." And when co-worker Charli Burnett warned Leviss that people would call her a homewrecker after showing interest in Schwartz, Leviss casually remarked, "there is no home to wreck."
At dinner that night, Leviss admits to Maloney that she asked Schwartz to make out with her the night before, which he declined. Maloney takes Leviss' confession in stride, pinning the blame on Shay, but she made it clear that Leviss was not respecting her boundaries by being interested in Schwartz. But in an even more chilling moment, Madix reacted to the confession by saying, "Girl, I didn't know you had it in you." Sadly, she would find out in a few months' time.
Episode 5
During a girls trip to Las Vegas, Leviss made out with Garcelle Beauvais' son Oliver when he was only separated, but not legally divorced, from his wife. However, Kent was the first one to admit that she had a long-standing crush on Oliver that she never acted on due to his wife and kids, and she thought Leviss only seemed interested after she expressed that.
"It is strange to me, though, because Raquel had zero interest in Oliver, until I said, 'Damn, he kinda fine,'" Kent said in a confessional. "And then all of a sudden, she's treating this like a pageant and is in competition with me."
Episode 6
The most jaw-dropping post-Scandoval statement to date on Season 10 comes in the sixth episode, just hours after the Oliver incident. Kent makes a comment that she wouldn't trust Leviss around her man when she's drinking, and Leviss responds by saying, "Thank God you don't have a man to like f*cking have around." This is also when Maloney clocks what seems to be a pattern with Leviss. "It seems that she's only interested in men that her friends are either married to or interested in, and that's a big red flag for me," she said in a confessional.
Later in the episode, Sandoval is wearing his lightning bolt necklace while filming at TomTom with Schwartz. Fans have noticed that he and Leviss have similar lightning bolt necklaces, which fans speculate they wore throughout their affair as a secret sign of affection and commitment.
At the end of the episode, Leviss told Maloney and Kent that she no longer felt welcome on the girls trip after an argument with Kent the night before and decided to head back home. To rub salt in the wound, she made plans to meet up with Schwartz and their friends at a bar that night. Clearly, she didn't learn a thing from hurting Maloney's feelings.
This post will be updated as Vanderpump Rules Season 10 continues to play out.