More Than 100,000 Black & Asian WWI Soldiers Denied Commemoration, Inquiry Finds
The inquiry was set up following MP David Lammy's Channel 4 documentary, Unremembered.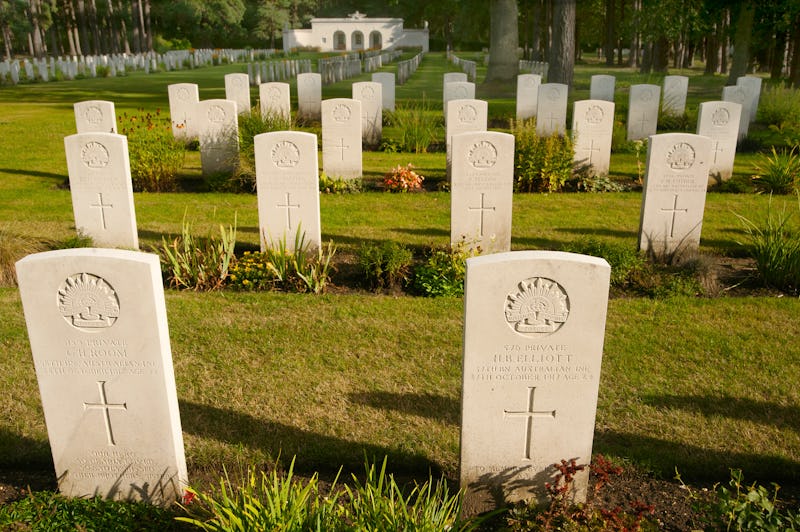 Tracy Packer/Moment Mobile/Getty Images
An investigation conducted by the Commonwealth War Graves Commission (CWGC) has found at least 116,000 Black and Asian military personnel who died during the First World War were not properly commemorated for their service in comparison to their white UK counterparts. An inquiry was launched following a Channel 4 documentary in 2019, Unremembered, that saw David Lammy MP disclose the shocking revelation.
The findings were announced in the House of Commons on April 22, 2021, by defence secretary Ben Wallace, who also apologised for the CWGC's failure to honour the fallen soldiers in question correctly.
As the Guardian reports, all military service personnel who have died "are supposed to commemorate identically," and are expected to have "their name engraved on a headstone over an identified grave or on a memorial to the missing." In their report, the CWGC discovered that it could be as many as 350,000 Black and Asian soldiers that were denied the opportunity to be remembered and commemorated for their service.
Initially named the Imperial War Graves Commission, the CWGC was founded in 1917 to commemorate and remember the lives lost during World War I "and was defined by the principle of equality for treatment of death," per BBC News. But, as has since been discovered, there were times when the CWGC "deliberately overlooked evidence" that would have allowed names missing from memorials and headstones to be found.
So what happens next? Well, the CWGC has recommended three actions to amend their wrongdoing. These are:
Extending geographically and chronologically the search in historical record for inequalities in commemoration and acting on what is found
A renewed commitment to equality of sacrifice through the building of physical or digital commemorative structures
The acknowledgment and acceptance of this difficult history and its communication to all the communities of the former British Empire touched by the two world wars.
Speaking to the BBC on April 22, shadow justice secretary David Lammy told the BBC that, while making his documentary in Kenya and Tanzania, he discovered mass graves in which Africans had been "dumped with no commemoration whatsoever."
He said it was a travesty that those who served the British Empire were not commemorated properly, but that he welcomed the result of the report today.
"I'm just really, really pleased that the dignity that these men deserved – who were dragged from their villages and commandeered to work for the British Empire – that dignity that they deserve in death can be granted to them," he said.
Lammy added that work must be done to find the soldiers' names in archives wherever possible, and to enquire how their local communities would like them to be commemorated.