This Former Investment Banker Is Making The Fashion Industry More Size-Inclusive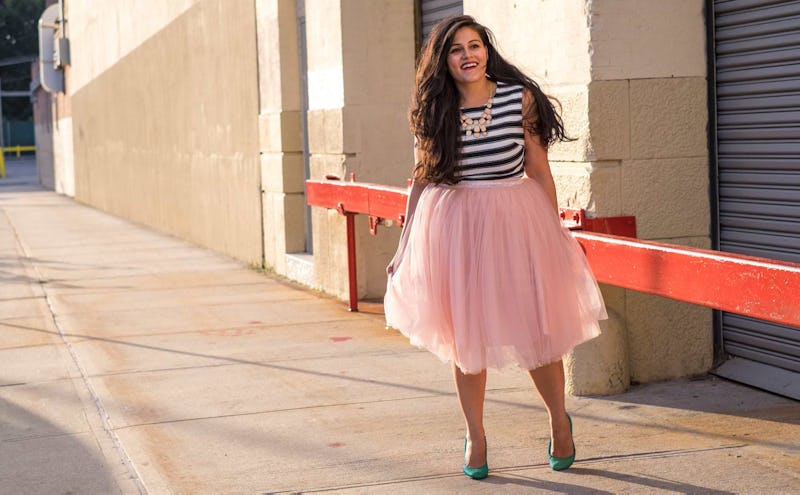 Courtesy of Nadia Boujarwah
For the third year in a row, Bustle's Upstart Awards are honoring young women who are doing incredible things in the realms of business, STEM, fashion and beauty, the arts, philanthropy, and beyond.
Every teen girl dreams of finding the perfect prom dress to wow her classmates. When Nadia Boujarwah was a high school junior, she was searching for a plus-size gown to wear to her school's end-of-year gala. Only one store in town had something in her size — and it was a white, sequined pantsuit.
"It screamed grandma on a cruise, not teenage fairytale," the 31-year-old tells Bustle. "I took matters into my own hands — designing and producing a custom gown that made me feel beautiful, confident and unstoppable."
The experience stayed with her. She was reminded of her prom shopping nightmare once she began studying at Harvard Business School, where she discovered 67 percent of American women wear a size 14 or above, even though plus-size clothing only accounts for 17 percent of clothing purchased. A decade later, Boujarwah left her investment banking job to co-found Dia&Co, a personal styling service for plus-size women.
"I not only needed to develop a career path, but I also needed to change an industry," she says. "I needed to create the clothes that inspired me so much and make them available to women who currently didn't have access to them because of their size." She started the company with Lydia Gilbert, her classmate from Harvard Business School, in 2014, and today the company has more than 400 employees, offices in five states, and has worked with more than a million women.
Here's how it works: Clients share their clothing sizes and favorite styles with Dia&Co during the ordering process. Unlike other clothing subscription services, Dia&Co starts at size 14. Dia&Co stylists curate clothing and accessories for the customer and ship it to their home. Instagram is filled with posts from women who use the #mydiastyle hashtag to show off their boxes and outfits.
When the company first started, Boujarwah and Gilbert did all of the shopping themselves. The pair would make daily trips to Lord & Taylor and Macy's to shop for customers on their own. Today, the company has hundreds of brand partners who create a wide array of styles, but Boujarwah says offering plus-size clothing isn't all that a brand needs to do to make it into a Dia&Co box.
"We have passed on potential partnerships when it seemed that the brands did not share our love for and commitment to our customer," she says. "Fortunately, we have also found many brands who are eager to serve this customer exceptionally."
Boujarwah managed to keep her love for fashion alive even when faced with discouraging shopping experiences. She says she often would visit retailers to find the plus-size section — if it existed at all — was sparsely stocked and hidden from the main sales floor. Inspired by her grandmother's 1950s Caribbean-inspired looks, she combined pieces from thrift stores and vintage shops to create a sense of style when she couldn't find anything in stores. Through Dia&Co's commitment to making plus-size clothing mainstream, Boujarwah hopes women won't be demoralized by their shopping experiences.
"Our long-term goal is to transform retail and fashion to be more inclusive and to make the power of style available and enjoyable for all women," she says. "In order to do this, our efforts will have to be comprehensive."
The company launched its #MoveFashionForward initiative earlier this year, which challenges top designers to create plus-size clothing. Last month, the company hosted theCURVYcon during New York Fashion Week and unveiled four collections in sizes 14-32. Boujarwah wants women everywhere to know they shouldn't blame themselves for a negative shopping experience. Shopping for clothing is an opportunity for celebration and self-expression, not shame.
"Please believe that this a problem with the system, not a problem with your body," she says. "You should have a shopping experience that puts your body first."