8 Vegan Recipes From Nigella Lawson To Try This Veganuary
The butter-loving chef actually has a number of plant-based recipes.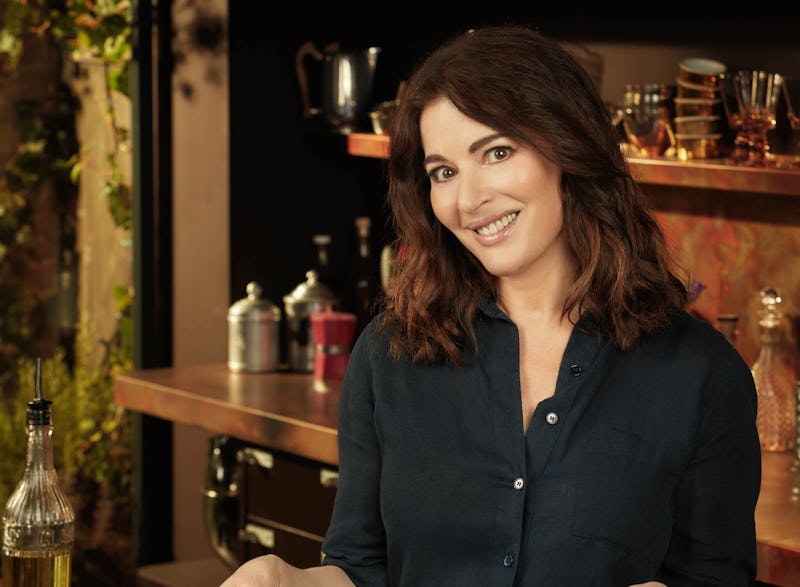 'Nigella's Cook, Eat, Repeat'/BBC/Jay Brookes
Last year, around 40,000 people in the UK committed to Veganuary – a month-long break from using products derived from animals – and signs suggest that even more people will be trying out a plant-based lifestyle for 31 days this month. But what to cook? Admittedly, Nigella Lawson may not be the first chef you think of when it comes to vegan recipes. While the beloved chef incorporates plenty of veggies into her dishes, she's also not one to shy away from butter and cheese (remember double-buttered-toast-gate?). But you may be surprised to learn that Nigella Lawson actually has some delicious vegan recipes up her sleeve, perfect for anyone taking the plunge into Veganuary for the first time.
Though Nigella was recently championing her porky Christmas feast, for those who have yet to try a vegan lifestyle, they'll be happy to hear that Nigella's vegan recipes are as filling and, urrr... sensual as her carnivorous creations. In the list below, you'll find noodle dishes, curries rich in flavour and heat, and even some baked goods to try.
If you haven't already, be sure to stock up on lentils, chickpeas, and mung beans before your Veganuary journey begins – you're going to need them – and keep reading for seven vegan recipes you'll return to again and again in 2021.