The Post-Quarantine Dating Rule To Follow, Based On Your Zodiac Sign
You may want to re-think some of your own rules.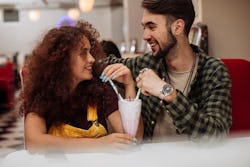 mihailomilovanovic/E+/Getty Images
When it comes to dating, the only rules you need to follow are the ones you create for yourself. And now that you're social distancing, you may want to re-think some of your own rules if you're looking to find "the one." For example, in pre-pandemic times, you may have forbidden texting an ex. But after taking some time to reflect in quarantine, you may have realized that everyone deserves a second chance — even your past flame. If you're thinking of changing your approach to dating post-quarantine, let the zodiac be your guide. According to astrologers, every sign has a post-quarantine dating rule they should try.
Astrology can be a useful tool for navigating your love life. As Alexandra Chrysohoidis, astrologer and intuitive tarot reader, tells Bustle, understanding your sun sign can bring clarity to your key traits, as well as your past relationships and current love interests. "The more you know from an elemental, symbolic, and cosmic perspective, the more you understand the influences at play in your relationships," Chrysohoidis says.
Since every sign is different, what works for one sign may not work for you. So, here's the post-quarantine dating rule you need to listen to, based on your zodiac sign.