7 Women On Why They Broke Up With Their Partner During The Holidays
"Dragging the process on is unfair to the other person who's in a relationship."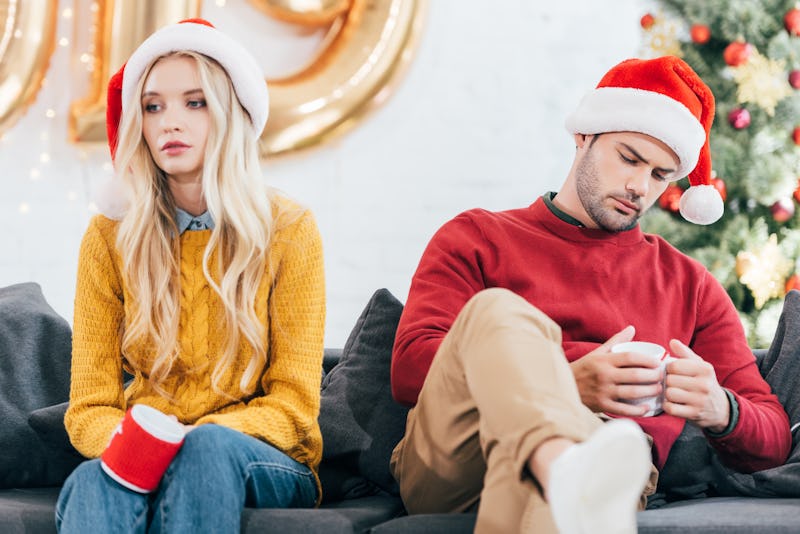 Shutterstock
It's no secret that the holiday season can be stressful for couples. But if things haven't been going well and you're quickly reaching your boiling point, you may be faced with a dilemma. Should you break up with your partner during the holidays or wait until after the new year?
Breaking up with someone during any time of the year isn't any fun. But dumping them over the holiday season is just like breaking up with them on their birthday. As April Davis, matchmaker and founder of LUMA - Luxury Matchmaking, tells Bustle, it turns a festive time into a mourning period.
"With all the positivity and holiday spirit in the air, it's common for couples that are on the rocks to hold off until after New Years to break up," Davis says. "This allows them to enjoy their holidays, participate in all the fun activities the season brings, and then deal with reality when the winter wonderland is over."
But just because you've made plans in advance and you don't want to ruin someone's holiday, it doesn't mean that you should wait to end a relationship. According to Davis, "it's not the most effective, healthy, or considerate way to break up with someone."
You might feel like you're doing the right thing by sparing your partner's feelings, but you're actually not doing them a favor. In fact, Davis says that the best time to end a relationship is when you make up your mind to end it in the first place. "Dragging the process on is unfair to the other person who's in a relationship with someone who doesn't want to be with them," she says. It also wastes your time.
These women share their holiday breakup stories, and the one thing that pushed them to end the relationship before the new year.
This article was originally published on