3 Easy Ways To Recreate Starbucks' Pumpkin Spice Latte At Home
Avoid the drive-thru with these three easy hacks.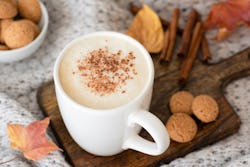 Arx0nt/Moment/Getty Images
Whether you like it or not, pumpkin spice season is upon us. If you're looking to partake in the pumpkin spice festivities but want to avoid going to Starbucks — because of the coronavirus pandemic, because of the inevitable long lines, or some combination of the two — there are plenty of ways to recreate Starbucks' Pumpkin Spice Latte at home. Button up your cardigans, my caffeinated friends, because fall is whenever Starbucks says it is.
In addition to avoiding lines and the very real coronavirus risk, making a pumpkin spice latte at home gives you even more options for customizing your PSL. Want an extra shot of espresso? Go for it, no extra charge. Don't like it so sweet? Halve the amount of simple syrup you add. Want oat milk? Of course, you do. Oat milk away. Want to put pumpkin spice whipped cream on your pumpkin spice latte? Did you even realize that was a thing you could and absolutely should do? Your at-home PSL options are as unlimited as you want them to be.
If nothing else, you'll save yourself four bucks. Here are three ways to make a Starbucks Pumpkin Spice Latte at home.
Want to make it an iced pumpkin spice latte? That's quite literally just as easy as... adding some ice. In fact, Starbucks' ready-to-drink PSL is perfect for your iced latte. If still want to go completely from scratch and cut down on the amount of cooling time, use cold brew instead of hot coffee or espresso. So long as you've got some combination of coffee, pumpkin, autumnal spices, and a fall mindset, there is really no wrong way to pumpkin spice.