The Creepy Thing Your Sleep Position Can Tell You About Your Personality
All hail the starfish sleeper.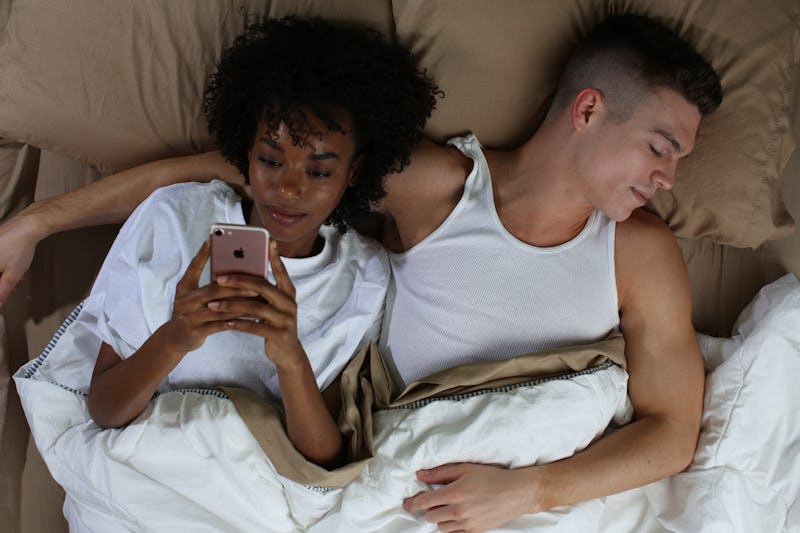 Ashley Batz/Bustle
Whether you're into cuddling, solo sleeping, or snoozing on your side, back, or stomach, how you sleep can reveal a lot about you. You spend about one-third of your life asleep, according to a 2011 study published in the Handbook of Clinical Neurology journal, so it makes sense that your preferred sleep style can reveal insights into your waking self. But what your sleep position says about your personality may surprise you.
When you're awake, your personality can involuntarily shine through in the way you carry yourself, like your posture, tics, or expressions. The same is true when you're asleep, according to Adrianne Carter, a UK-based facial expression and body language expert. "Sleep positions are a form of body language," she tells Bustle. "Our body's posture and movement reveal how we are feeling and what is happening for us internally, and mostly happens subconsciously."
Just like your personality, sleep is complicated and multifaceted. It's not uncommon for a person to have more than one trait that directly contradicts another. Obviously, everyone needs sleep. But while it's clear that everyone needs ZZZs (it helps you think clearly, regulates your mood, and staves off disease, for instance) sleep positions and personality traits are not universal and vary by culture (because they're self-reported), according to a British study conducted by Dr. Chris Idzikowski and reported in BBC News.
"We are all aware of our body language when we are awake, but this is the first time we have been able to see what our subconscious posture says about us," BBC News quoted Idzikowski as saying. "What's interesting is that the profile behind the posture is often very different from what we would expect." So what does your sleeping position say about your personality? Here's what to know.
This article was originally published on