I Tried The Starbucks 2023 Summer Menu Before Anyone Else & These Are My Thoughts
Iced coffee lovers will be pleased.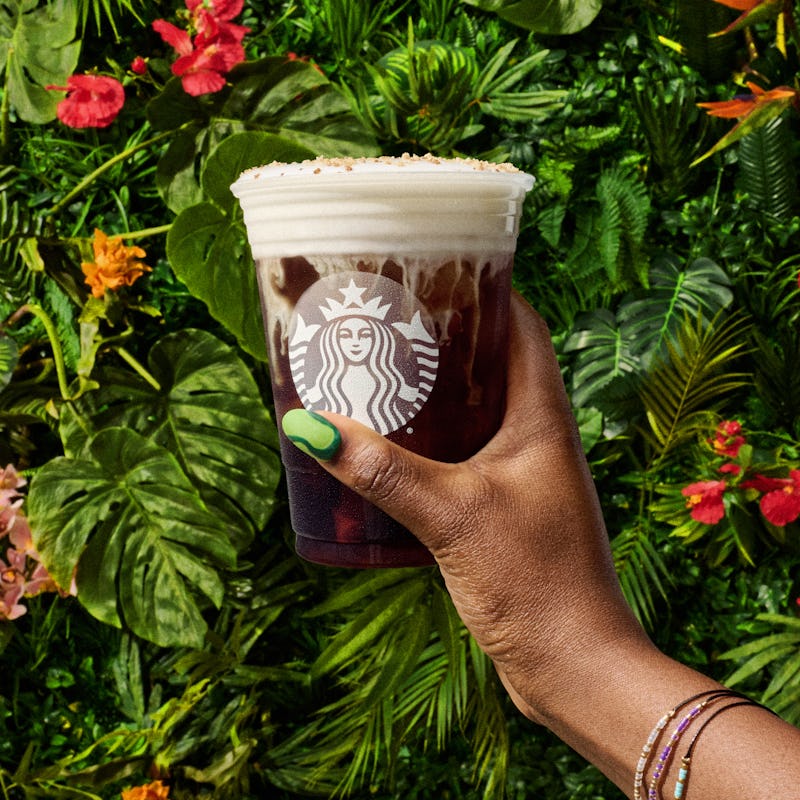 Courtesy of Starbucks
The calendar may say there are still a few more weeks of spring, but it looks like summer is already in full swing at Starbucks. The coffee giant kicked off the warm weather season on May 9 by announcing its summer 2023 menu that includes two (yes, two) brand-new cold coffee drinks. Before you swap your go-to summer sip for one of the new offerings, though, you're probably wondering if the beverages will help you beat the heat this season. I got to preview Starbucks' new seasonal items, and here's what you can expect from the summertime goodies.
Inspired by the season of bonfires, beaches, and barbecues, the lineup is adding four new items to its menu just in time for the temperature to drop: The White Chocolate Macadamia Cream Cold Brew, the Chocolate Java Mint Frappucino, the Green Apron Blend, and the Bumblebee Cake Pop. The White Chocolate Macadamia Cream Cold Brew is made with Starbucks' signature cold brew mixed with macadamia syrup and is topped with white chocolate macadamia cream cold foam and a sprinkling of toasted cookie crumbles that makes the drink seriously 'Gram-worthy. The Chocolate Java Mint Frappuccino blends Starbucks' Frappuccino roast coffee with chocolate and mint flavors for an extra smooth sip and features a mix of Frappe chips and a chocolate cookie mint sprinkle topping for an added crunch.
The Green Apron Blend is a new blonde roast with notes of honeybell orange and graham cracker, and the Bumblebee Cake Pop features vanilla cake dipped in yellow icing and decorated to look like an adorable bee. The cold coffees and cake pop will be available in stores beginning May 9 for a limited time, while the Green Apron Blend can be ordered as a daily hot brew throughout the summer or picked up in a packaged coffee year-round.
If you're an iced coffee fan or you just don't want to stray away from your regular order, you might be hesitant to add the new drinks to your morning coffee rotation. Lucky for you, this review breaks down everything you need to know about the seasonal menu items so you can pick the drink that's right for you.
Starbucks White Chocolate Macadamia Cream Cold Brew Review
As if the drink's creamy foam and cookie crumble topping isn't enticing enough on their own, the cold brew gives off a sweet vanilla scent that makes you want to dive right in. And between the subtle nuttiness of the coffee and the extra sweet flavor of macadamia, the beverage doesn't disappoint.
The cold brew isn't too strong, which allows the cold foam and the macadamia syrup to really shine. The white chocolate macadamia cream cold foam and macadamia syrup taste exactly like the cookie they're named after, but the flavor won't give you a major sugar rush, either. It's not only an ideal blend of sweet and salty, but a perfect mix of smooth and crunchy, too, because the cookie crumbles add just the right amount of contrast to an otherwise silky sip.
Starbucks Chocolate Java Mint Frappuccino Review
Despite all the flavors and eye-catching toppings, I was surprised the drink didn't have much of a scent. That wasn't a bad sign for what was to come, though, because the drink was just as sweet as the name implied.
The mix of mint and chocolate flavors tastes exactly like a scoop of mint chocolate chip ice cream after a long day at the beach, and the Frappuccino is blended just enough that it's not too hard to sip but not too milky, either. Between the thickness of the drink, the crunchiness of the various toppings, and the creaminess of the whipped cream, there are a lot of different delicious textures at play.
The only thing I didn't love about this bev is that I could hardly taste the coffee flavor. And because it's so sweet with almost nothing to contrast it with, it's easy to forget you're drinking a Frappuccino and not a straight-up milkshake. But for those who aren't big on coffee flavors, this could be the main draw.
Starbucks Green Apron Blend Review
Considering it's made with notes of graham cracker, it's no surprise the new blend tastes like a perfectly roasted s'more. The blonde roast doesn't have an aftertaste that overstays its welcome either, which always scores major points with me. Its summer-inspired flavor is surprisingly refreshing, so if you're someone who prefers hot coffee all year long, this is definitely a good option to keep in mind.