5 Ways To Support Wildfire Relief Efforts Right Now
Places to donate, a petition to sign, and a hotline to share with your friends out West.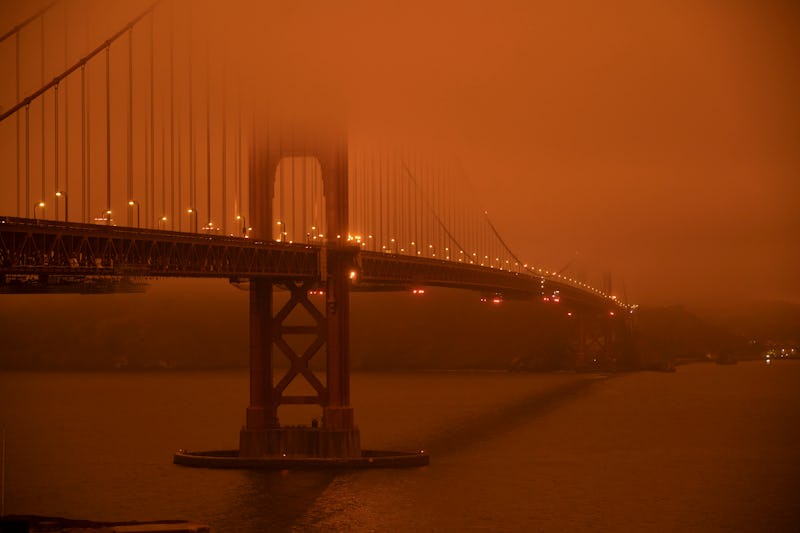 HAROLD POSTIC/AFP/Getty Images
Wildfire season has barely begun, but California has already lost over two million acres to fires, a record for the state. Many parts of Oregon and Washington state have also been engulfed in wildfires, killing at least 15 people across the three states and forcing over half a million people to leave their homes in Oregon alone, CNN reports. If you're watching the destruction from home, knowing how to support wildfire relief efforts can help you turn your feelings into action.
As people evacuate their homes, many will require urgent assistance. Whether you have medical skills and are able to travel to affected areas, or if you want to help from the safety of your home, the Red Cross has a wide range of disaster relief volunteering opportunities. If you're looking to donate to community-led relief efforts, there's options for that, too.
You can sign a petition to encourage proactive climate change policies that can stop wildfires from getting worse each year, and talk to your loved ones about how taking cues from Native American land management practices is one way of restoring balance to the region. If you or someone you love is being adversely impacted emotionally by the fires, share the Disaster Distress Helpline at 800-985-5990 or text TalkWithUs to 66746 to get in touch with a trained crisis counselor.
Whatever form of action you choose to take, you can find different options for getting involved in wildfire relief efforts below.