The 6 Best Chew-Proof Dog Leashes You Can Get On Amazon
We only recommend products we love and that we think you will, too. We may receive a portion of sales from products purchased from this article, which was written by our Commerce team.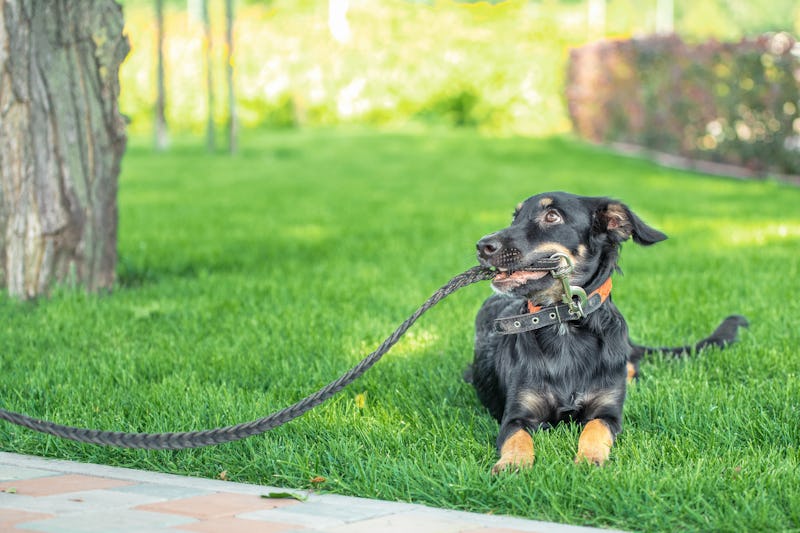 ChocoPie / Shutterstock
If your dog is a heavy or aggressive chewer, you know that any object has the potential to become a toy, including a leash. This can cause a lot of worry, since chewing through a leash is not only a frustrating and expensive problem but a safety concern as well. Fortunately, the best chew-proof dog leashes can withstand some chomping and help keep your pup safe on walks.
But why do dogs chew leashes? Linda Keehn, CDBC, CPDT-KA certified dog trainer and founder of Positive Canine Training and Services in New York, explains in an email to Bustle that it can depend on the dog. When it comes to puppies, she says many simply "love to chew," and they "are just not used to having a leash attached." Adult dogs often chew due to overarousal, according to Keehn. She describes, "They are excited and chewing gives them something to do and someplace to put all that excitement."
As you shop, you'll find that leashes can be made with many different materials. The only truly chew-proof leashes are ones that are made of metal. That's because a dog who is determined enough can bite through most other types of materials — plus, for some dogs, metal can be less exciting to chew on. But if you don't care for the look or feel of a metal chain leash, you might try a durable leather or nylon leash that can withstand occasional chewing. Ultimately, when it comes to shopping for leashes, Keehn notes that "material is often [a] personal preference."
Leashes also vary in length. Go-to leashes for everyday use tend to be between 4 and 6 feet long. Keehn personally enjoys using "a 6-foot leash that feels good in your hand." However, a longer leash can give your pup extra range to sniff their surroundings or enjoy decompression walks.
If you have a leash-biter at home, Keehn's advice is to stay calm and avoid making a walk into a game of tug by pulling back on the leash. She suggests finding a calmer area to walk them and/or "see[ing] if you can help your dog get interested in something else like sniffing." And Keehn also recommends taking treats with you to "reward the behavior you want." If your dog can't be redirected from leash chewing or exhibits other unwanted behaviors on walks (think: jumping, nipping, and/or pulling), Keehn advises that you contact a certified dog trainer or behavior consultant for extra help.
To get you started, below you'll find a round-up of some of the best chew-resistant leashes you can find on Amazon.
Expert:
Linda Keehn, CDBC, CPDT-KA certified dog trainer and founder of Positive Canine Training and Services in New York
This article was originally published on