The 7 Best Hypoallergenic Sheets
Soft sheets that won't kick up your allergies.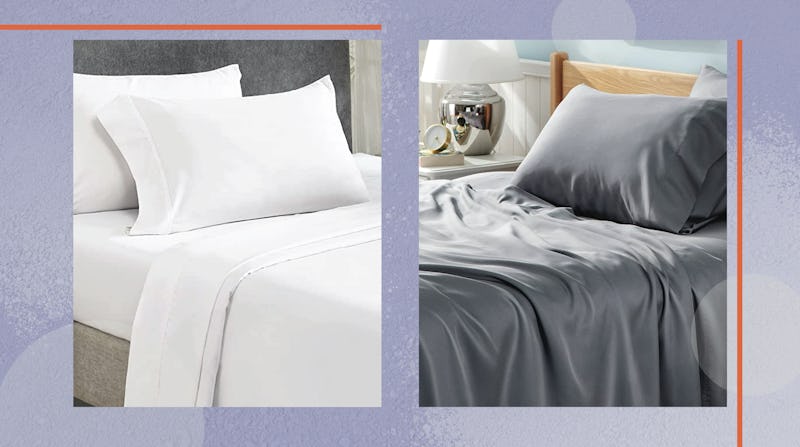 Bustle/Amazon
We may receive a portion of sales if you purchase a product through a link in this article.
You can have the most gorgeous, soft, and silky bed sheets known to man, but if you're sneezing and coughing all night because of allergies, those beautiful sheets are not going to help give you a good night's sleep. Here's what will: the best hypoallergenic sheets, which are made from natural materials like cotton, bamboo, and eucalyptus, or a synthetic material with a tight weave that resists allergens.
What To Consider When Choosing Hypoallergenic Sheets
Paying attention to fabrics is crucial when it comes to shopping for hypoallergenic sheets. Some cotton sheets, and especially organic cotton, are free of pesticides and chemicals, which reduces the chance that they will kick up allergies. However, some cotton cons are that they wrinkle and can shrink in hot dryers, so extra care is needed to keep them in good shape. Choose cotton sheets that are GOTS-certified or meet OEKO-TEX standards to ensure they've been tested for chemicals. Bamboo is another natural fabric that is hypoallergenic, safe for sensitive skin, and breathable, though it is prone to wrinkles and more expensive than cotton. Newer on the scene, eucalyptus sheets are eco-friendly, hypoallergenic, antifungal, and antibacterial, as well as cooling and less prone to wrinkles than cotton or bamboo, but are also more expensive than cotton.
Synthetic microfiber sheets, which are usually the most affordable of all of these options, can also be hypoallergenic, but the trade-off is that they aren't as breathable as natural fabrics. No matter which fabric you choose, a tight weave like sateen or percale is preferable if you have allergies because it creates a barrier against dust mites.
Shop The Best Hypoallergenic Sheets
In a hurry? These are the best hypoallergenic sheets on Amazon:
1. These 100% Cotton Sheets With A Sateen Weave: California Design Den Cotton Sheets Set
2. An Organic Cotton Sheet Set In A Crisp Percale Weave: Sleep Mantra Organic Cotton Sheets
3. This 100% Bamboo Sheet Set: Bedsure Bamboo Sheets
4. These Soft Sheets Made With Bamboo And Microfiber: Cosy House Collection Luxury Bamboo Sheets
5. A Sustainable Set Of Eucalyptus Sheets: Sheets & Giggles 100% Eucalyptus Lyocell Sheet Set
6. These Microfiber Sheets With A Cult Following: Mellanni Bed Sheet Set
7. These Extra Deep Pocket Microfiber Sheets: CGK Unlimited Extra Deep Pocket Sheets
Whether you need super affordable bed sheets or bed sheets to keep you cool at night, you'll find them here. What won't you find? Sheets that attract allergens and hold on to them for dear life. Your nights are about to become a lot more restful.
This article was originally published on