The 8 Best Nonstick Pans Without Teflon
We only recommend products we love and that we think you will, too. We may receive a portion of sales from products purchased from this article, which was written by our Commerce team.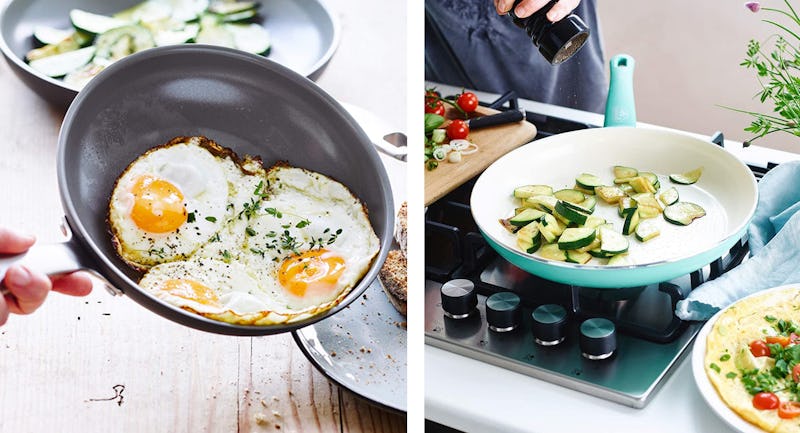 Amazon
Maybe you've heard that Teflon can release harmful chemicals when heated to high temperatures, and if you're in the market for a nonstick pan, you'll likely encounter the controversial material. Enter: ceramic cookware. The best nonstick pans without Teflon boast similar stick-proof qualities, but they're often coated with a silica-based material (commonly referred to as ceramic) instead of polytetrafluoroethylene (PTFE). In addition to a ceramic pan, you might consider a well-seasoned cast iron one for cooking without Teflon.
Teflon is one brand name for a material called PTFE. PTFE has been produced using perfluorooctanoic acid (PFOA), a chemical that might have potential health effects, according to the EPA — but today, Teflon-branded nonstick coatings are PFOA-free. More research is needed on the toxicity of PTFE itself, but it can begin to produce toxic fumes when heated above 536 degrees Fahrenheit. While that's above a typical cooking temperature range (for reference, the smoke point of vegetable oil is 400 degrees Fahrenheit), you might choose to skip PTFE in your cookware altogether. Fortunately, you can find suitable alternatives in ceramic — or, alternatively, well-seasoned cast iron — pans.
To take the guesswork out of finding a quality Teflon-free pan, you'll find some of the best ceramic-coated nonstick pans Amazon has to offer below. In addition to frying pan options, this list contains a ceramic saucepan, sauté pan, and griddle pan — plus, a cast iron pan you can use with metal utensils. If opting for a ceramic pan, make sure to snag the best cooking utensils for nonstick cookware to preserve the coating.
In a hurry? These are the best nonstick pans without Teflon:
1. The Overall Best Nonstick Frying Pan Without Teflon: GreenPan Chatham Ceramic Nonstick Frypan
2. A Budget-Friendly Pair Of Frying Pans Without Teflon: GreenPan Prime Midnight Nonstick Frying Pan Set (Set Of 2)
3. A Teflon-Free Frying Pan With A Soft Handle: GreenLife Soft Grip Ceramic Nonstick Open Frypan
4. An Editor-Approved Nonstick Pan Without Teflon: ZWILLING Spirit Ceramic Nonstick Fry Pan
5. This Nonstick Saucepan Without Teflon: MICHELANGELO Saucepan with Lid
6. A Nonstick Grill Pan Without Teflon: TECHEF Ceramic Nonstick Grill Pan
7. The Nonstick Sauté Pan Without Teflon: GreenPan Hudson Ceramic Nonstick Saute Pan
8. A Fan-Favorite, Teflon-Free Pan You Won't Scratch: Lodge Pre-Seasoned Cast Iron Skillet
With these pans on hand, you'll soon be able to sear your favorite foods without worrying about fumes — and you can use them all in the oven, too.
Studies referenced:
Shuster, K. A., Brock, K. L., Dysko, R. C., DiRita, V. J., & Bergin, I. L. (2012). Polytetrafluoroethylene toxicosis in recently hatched chickens (Gallus domesticus). Comparative medicine. https://www.ncbi.nlm.nih.gov/pmc/articles/PMC3276392/.
This article was originally published on