The 7 Best Rug Pads For Hardwood Floors
Keep your rugs from slipping and sliding.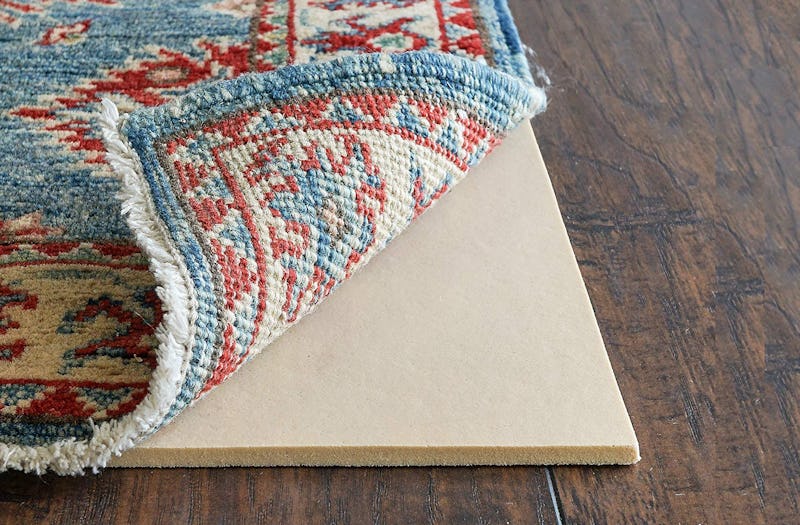 Amazon
We may receive a portion of sales if you purchase a product through a link in this article.
Hardwood floors are a beautiful classic — and generally an expensive investment. With so many rug pad options on the market, you might think that all rug pads are the same, but they actually vary in terms of density and even material. The best rug pads for hardwood floors are constructed with felt and foam to provide a safe barrier between your rug and your hardwood. They're available in a wide range of sizes, so you can find a perfect fit, and some can even be trimmed down to suit your rug perfectly.
What To Look For In Rug Pads For Hardwood Floors
A quality rug pad helps your area rug lie completely flat over hardwood floors and keeps people and pets from slipping as they walk or run throughout the house. They also make it so much easier to vacuum (without vacuuming up your rug) and can even offer soundproofing features that'll make your neighbors happy.
It's important to choose pads that don't use wood-damaging glues and that are dense and protective enough to handle the added pressure of furniture (without putting dents in your hardwood). For reference, the average pad's density is between 0.25 inches and 0.5 inches in thickness, so keep that range in mind when shopping.
Shop The Best Rug Pads For Hardwood Floors
In a hurry? These are the best rug pads for hardwood floors:
1. The Overall Best Rug Pad: RUGPADUSA Felt + Rubber Rug Pad
2. The Runner-Up: Mohawk Home Dual-Surface Nonslip Rug Pad
3. A Popular Rug Pad With Gorilla Grip Technology: Gorilla Grip Original Area Rug Gripper Pad
4. An Affordable, Simple Rug Gripper: Veken Nonslip Rug Pad Gripper
5. An Eco-Friendly Rug Pad Made With Recycled Fibers: nuLOOM Eco-Friendly Nonslip Felt Rug Pad
6. This Dense Foam Pad By A Green-Rated Brand: Durahold Plus Rug Pad
7. A Thicker Pad Worth The Splurge: Carpenter Visco-Elastic Memory Foam Rug Pad
Also Great: Corner Rug Grippers That Are Safe On Hardwood
Here are seven of the best rug pads for hardwood flooring guaranteed to protect your beautiful investment and keep your rugs in place.
This article was originally published on