The 4 Best SodaStream Alternatives You Can Get On Amazon
We only recommend products we love and that we think you will, too. We may receive a portion of sales from products purchased from this article, which was written by our Commerce team.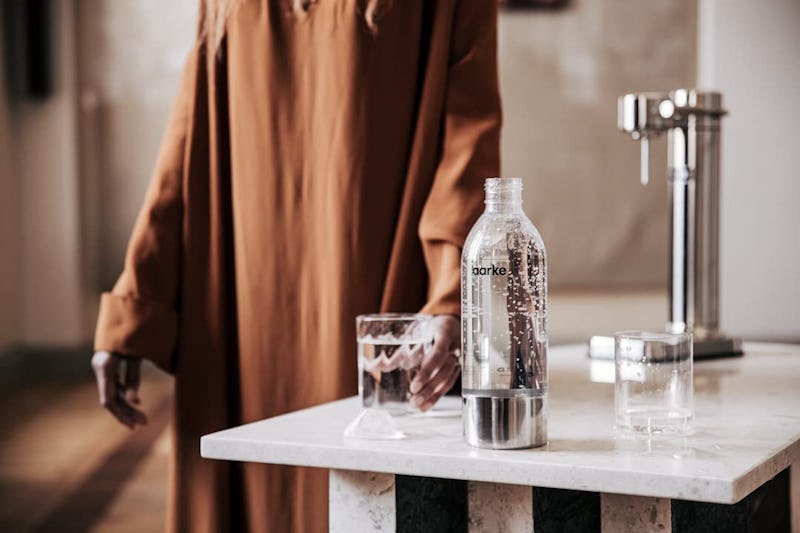 Amazon
Whether you're in camp "pop" or "soda," sometimes bubbly drinks are just what hits the spot. While SodaStream is the biggest name in the at-home fizz market, there are plenty of other brands to choose from, and many of the best SodaStream alternatives offer features SodaStream doesn't, like being able to carbonate just about any drink (including juices, cocktails, and flat beer) or a gadget that doesn't require those large CO2 canisters. One even comes in gorgeous minimalist chrome so you can feel like you're sitting at a fancy café while at home. When you're shopping, think about which of these bonus features matter most to you:
What To Look For In A SodaStream Alternative
While SodaStream only works with water (though you can add flavors later), many of Sodastream's competitors differentiate themselves by working with any type of beverage, including juices and wine And while most SodaStream alternatives use the same kind of large CO2 canisters, you can also get a smaller soda siphon, which uses carbon chargers that are smaller.
Finally, you'll want to think about your budget. Some carbonated drink makers are quite spendy, running upwards of $200 (though you get a lovely aesthetic in return). And beyond your initial investment, consider cost per liter. Now that you have a better idea of what to keep in mind when purchasing a soda maker, keep scrolling for four great soda makers.
Shop The Best SodaStream Alternatives:
In a hurry? Here are the top picks for SodaStream alternatives.
1. The Overall Best: DrinkMate Sparkling Water and Soda Maker
2. The Most Compact: iSi Classic MeshSodamaker
3. An Option With 5 Preset Bubble Levels: Spärkel Beverage System
4. The Most Stylish: Aarke Carbonator III Premium Sparkling Water Maker
Also Great: A Variety Pack Of Flavor Enhancers
This article was originally published on