The Best Under Bed Storage Organizers, According To Reviewers & Editors
We only recommend products we love and that we think you will, too. We may receive a portion of sales from products purchased from this article, which was written by our Commerce team.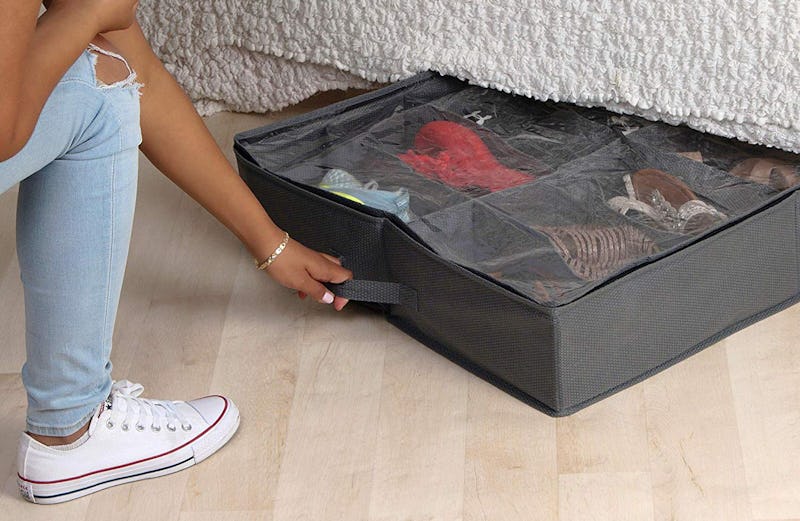 Amazon
If your dresser drawers are overflowing and your closet is jam-packed, there's only one option left for bedroom storage: under the bed. While it may seem a bit inconvenient to shove your clothes, shoes, and other odds and ends into the dusty crevasses beneath your mattress, the best under bed storage organizers protect your valuables while helping you stay organized.
It's important to consider your individual bedroom before you buy. A lot of units are actually too tall to fit beneath a standard bed frame, no matter how slim they look online. They key is to look for the measurements. A true under bed storage unit is less than 8 inches tall, yet wide enough to pack in as many items as possible. And depending on your bed frame size, you'll want to consider how wide your unit can be without sticking out as well.
Think of the items you're planning on storing. While a slim plastic bin is great for holding just about anything, a unit made from non-woven fabrics has more give and can stretch to accommodate bulky linens and sweaters. These also offer breathability and airflow to prevent mold and moisture from getting trapped inside with your belongings. But no matter which way you go, be sure to look for storage with a clear top or sides so you can easily see inside. Consider also whether you want to opt for a storage organizer with wheels or handles for easy access.
In a hurry? These are the best under bed storage organizers:
1. The Best For Linens & Blankets: Whitmore Zippered Under Bed Bags
2. The Best For Clothes: Sorbus Under Bed Organizers
3. The Best For Shoe Storage: storageLAB Under Bed Shoe Storage Organizers
4. The Best Storage Bin: Sterilite 56-Quart Wheeled Clear Boxes
5. The Best Under Bed Storage Cart: Whitmor Rolling White Wire Underbed Cart
6. The Most Chic: MUSEHOMEINC Solid Wood Under Bed Storage Drawer
7. The Best For Boots: Whitmor Clear Vue Boot Boxes
8. The Editor's Pick: AARAINBOW Under Bed Clothes Shoes Storage Bins
As far as genius organizational products go, these under bed storage solutions are standout investments. Here's a round-up of the best under bed storage on the market to help you get — and stay — organized.