The 7 Best Cat Litter Boxes For Odor Control
We only recommend products we love and that we think you will, too. We may receive a portion of sales from products purchased from this article, which was written by our Commerce team.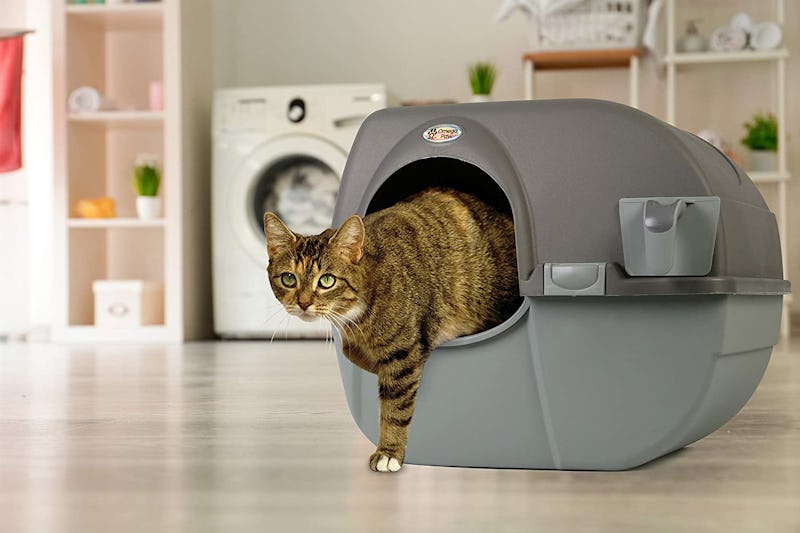 Amazon
When it comes to shopping for litter boxes, there's one thing that virtually all cat owners can agree on: It better be good at keeping odors away. Thankfully, the best cat litter boxes for odor control are made of odor-absorbing materials, have enclosed designs that keep odors from escaping, or are self-cleaning to ensure smells never enter your space.
The truth is, certain highly-rated litter boxes — especially those that are covered — can be better about containing smells because of a carbon filter. Automatic litter boxes can also be better at odor reduction but tend to be pricier. Litter boxes serve an important function for cats, obviously, but for owners, they're a crucial way to contain messes and keep smells from wafting throughout the entire house. While a completely odorless litter box may be the dream, keep in mind your budget as well. There's a litter box for every budget on this list.
In addition to choosing a good litter box, there are plenty of other things you can try out to eliminate cat smells, like cleaning your cat's box every day, using a litter deodorizer, and keeping your box in a well-ventilated area. Plus, it always helps to start with a great odor-reducing litter.
In a hurry? These are the best cat litter boxes for odor control:
1. The Best Overall: Modkat Flip Litter Box with Scoop And Reusable Liner
2. The Best Top Entry: Modkat Top-Entry Litter Box
3. The Best Disposable: Kitty's Wonderbox Disposable Litter Box
4. The Best Budget Self-Cleaning: Omega Paw Self-Cleaning Litter Box
5. The Best Automatic Self Cleaning: PetSafe Self-Cleaning Hooded Cat Litter Box
6. The Best With Reduced Litter Tracking: Petmate Booda Dome Cat Litter Box
7. The Most Affordable Hooded Litter Box: Van Ness Corner Enclosed Cat Pan
If you're eager to find the best option for trapping and containing smells, scroll on. Whether you're looking for a disposable box or a self-cleaning version that does all the work for you, you'll be sure to find the right one below.
This article was originally published on