The 7 Best Griddles For An Induction Cooktop
We only recommend products we love and that we think you will, too. We may receive a portion of sales from products purchased from this article, which was written by our Commerce team.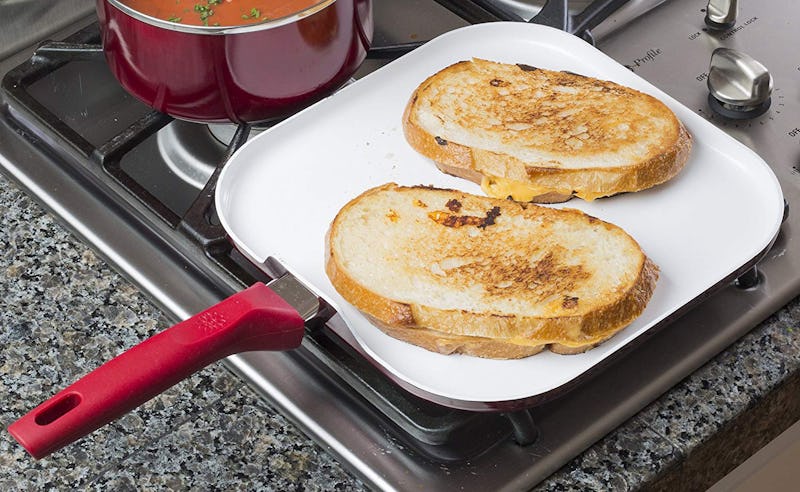 Amazon
There is a lot to love about induction cooktops — they heat up and cool down faster than electric coils, they're energy-efficient, and they're easy to clean. But since induction cooktops rely on a magnetic field to create heat, that means you're somewhat limited in the types of cookware you can use on your stovetop. For instance, when you're shopping for the best griddles for induction cooktops you'll need to buy one that's made with a magnetic material in order to work with induction heat. Of course, finding a griddle made out a magnetic material isn't too hard; you have your pick between cast iron, stainless steel, and anodized aluminum options —  there are even ceramic griddles made with stainless steal bases.
But just because all of these materials will work with induction stovetops, doesn't mean they are all the same. Each of these materials has their own pros and cons. For example, cast iron griddles are generally the most affordable of the three choices, and are great entry-level griddles if you're just starting out. But, if you plan to cook foods that can cake on to a pan and stay there, a ceramic griddle is the easiest to clean. Meanwhile, experienced cooks may want to invest in a more high-end and dishwasher-safe stainless-steel griddle.
And beyond just materials, you'll also want to consider size. For example, if you know you'll be cooking pancakes for the whole family on Sunday morning, a double burner griddle will let you cook twice as much food at a time. And if you're looking for the best multipurpose tool to save space in your kitchen, consider a dual-purpose combination griddle and grill.
With all of this in mind, here's an in-depth look at some of the best griddles for induction cooktops that you can buy.