The 7 Best Non-See-Through White T-Shirts
Say goodbye to sheer shirts.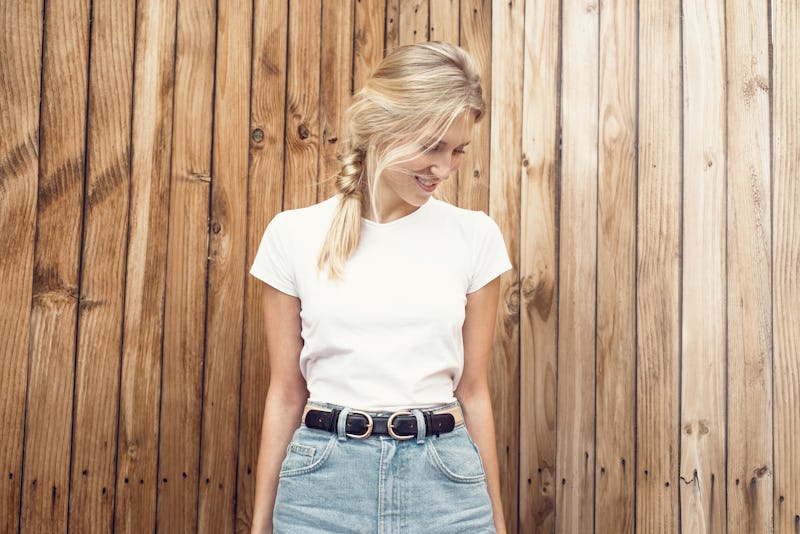 J-project/Shutterstock
We may receive a portion of sales if you purchase a product through a link in this article.
For many, the perfect white T-shirt tends to have one distinct trait: It's opaque. But, finding the best non-see-through white T-shirt is easier said than done, and you'll want to look for options with a tighter fabric weave to avoid a sheer shirt. With so many variations on this theme, paying attention to details on necklines, hemlines, and fit will also help narrow down the search for an endlessly wearable white tee.
The best way to know if a white T-shirt passes the sheer test is, of course, to try it on. Finding a non-see-through white T-shirt online then becomes a bit tricky. After sifting through tons of customer reviews, all of the tees in this roundup were deemed opaque by discerning Amazon shoppers.
Material And Fit
Most white tees you'll find are made of cotton, though some options will have synthetic or semisynthetic fabrics blended in for varying effects, including a lower risk of shrinkage due to the elasticity of synthetic fabrics like spandex. Modal offers a stretchier, breathable fit and a more durable T-shirt, thanks to its tight weave and long fibers. Look for a jersey knit, which can be made of cotton or synthetic fabrics, if you like a shirt with a soft, flowy drape. Cotton jersey is often used for T-shirts and available in a light- to medium-weight fit, the latter being better for opacity in a white T-shirt.
Shop The Best Non-See-Through White T-Shirts
In a hurry? These are the best opaque white tees on Amazon:
1. The Overall Best, All Things Considered: Amazon Essentials Crewneck T-Shirt
2. The Best Crop: Cotton Citizen Tokyo Crop Tee
3. The Best V-Neck: Amazon Essentials V-Neck T-Shirt
4. The Best Sleeveless: Lands' End Cotton Tank Top
5. The Best Scoop Neck: Fair Indigo Organic Cotton T-Shirt
6. The Best Pocket Tee: Goodthreads Vintage Cotton Pocket T-Shirt
7. The Best Long-Sleeve Tee: Daily Ritual Long-Sleeve V-Neck T-Shirt
A Note On Bras
Quick tip: A white bra is actually more likely to show under a white shirt. If you are going to wear a bra, the best bra to wear under a white top is one that closely matches your skin tone.
This article was originally published on