The Best Vegan Pancake Recipes, According To UK Foodie Influencers
Whether you're into fluffy American pancakes or thin french crêpes, there are plenty of plant-based options.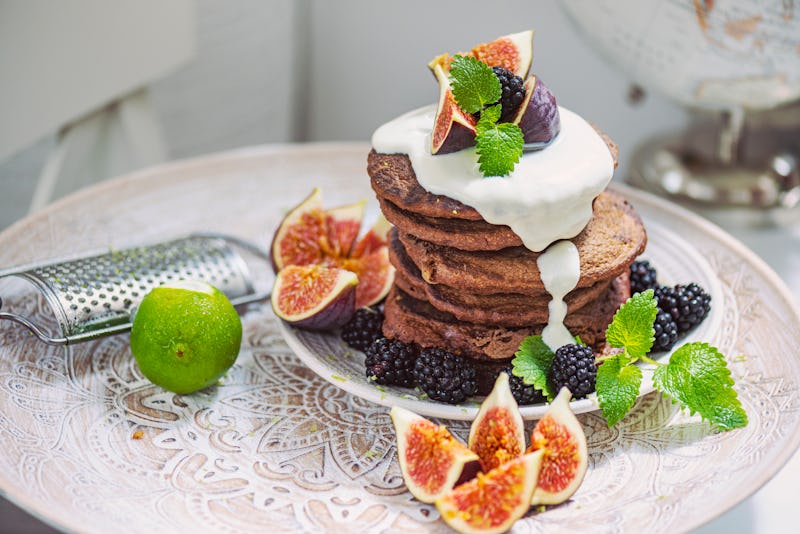 Rocky89/Getty
Flour, milk, eggs and sugar are basically all the ingredients you need for the humble pancake. But for all the plant-based eaters and vegans out there, you might have to go back to the drawing board this Pancake Day. Thankfully, there's some seriously yummy vegan pancake recipes being shared from all our fave Instagram chefs so you don't have to miss out.
We are a nation that loves pancakes. During Pancake Day, the UK consumes a whopping 117 million pancakes, which is around two pancakes per person. Pancake Day, also known as Shrove Tuesday, usually lands in late February, kicking off the 40 day countdown until Easter Sunday. In the Christian calendar, it also marks the start of Lent. Although Lent is now thought of as 'New Year's resolutions take two', it originated as a period of religious fasting in which people would give up foods such as eggs, meat, fish and fats.
Whether you're into fluffy American pancakes, a thin french crepe, a waffle-pancake hybrid, or (vegan) chocolate – and lots of it– there's a recipe in this list for everyone. So, before you give up all your edible vices, why not tuck into these vegan pancakes from some of our favourite chefs?
This article was originally published on