This Couple Turned An Old Barge Into A Floating Paradise
Who needs a London flat when you can live on the River Thames?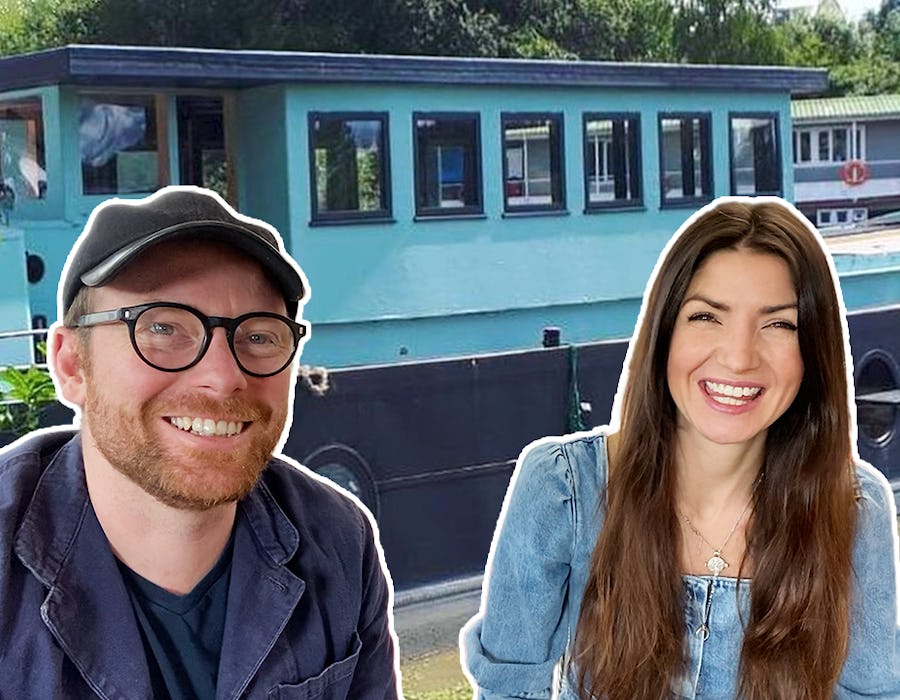 "Boat life" seems like a very romantic idea when you're in your 20s, sacrificing homely comforts for the benefit of a yachting adventure in the Keys — that is, until cabin fever sets in and you realize you can't live without a full-size shower. Christina Miles and partner Rohan Tully have flipped that whole idea on its head and subsequently built an enviably luxe life on a boat… well, technically a barge to be exact. After struggling with the real estate market in London, the couple decided to transform a Dutch barge into a high-end, colorful floating home. As you can guess, it was no easy journey.
In this episode of Relocated, the couple spoke with Bustle about what inspired them to take this leap and what they enjoy the most about their current living arrangement. Check out a tour of their home in the video below:
The renovations took 20 months. The pair purchased the boat in Belgium for less than £100,000. They ended up sailing it to Holland for major adjustments, including splitting the boat in two and removing 10 meters from the length, making it compliant with the U.K.'s mooring rules. What makes their boat truly unique are the 10 "super-sized" porthole windows, which fill the boat with light on even the rainiest English day. All in all, this stunning renovation resulted in an 1,800-square-foot, three-bedroom, two-and-a-half-bathroom family home, complete with a skylight.
A truly remarkable part of Christina and Rohan's journey is that they did all the renovations, all while caring for their newborn daughter, Elara. While the endeavor was very trying on the pair, they found it so rewarding that they've since started their own business called Isla Yachts, aiming to help others accomplish what they did and beguiling more converts to the boat life every day.
Executive Producer: Whitney Buxton. Executive Creative Director: Lauren Sofair. Supervising Producer: Irina Dvalidze. Post Supervisor: Amy Eakin. Editor: Stephan Taylor. Motion Designer: Jeff Donlan
Have you subscribed to Bustle Digital Group on YouTube?