7 Genius Egg Sandwich Hacks TikTok Swears By
From one-pan breakfast sandwiches to the perfect folded egg.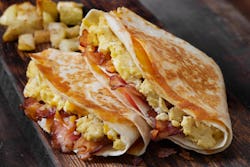 LauriPatterson/E+/Getty Images
What makes the perfect egg sandwich? Is it in the bread? The cheese? The way you cook your egg? We may have yet to settle on the definitive egg sandwich, but that hasn't stopped TikTok's egg sandwich hacks from taking over the internet. If there's one thing that unites us all, it's our love of breakfast food. And food hacks. I guess we can agree on two things.
TikTok food hacks are nothing new. We've learned how to whip our coffee, level up our soups, and make our frozen meals a little less sad thanks to food TikTok. We've even learned how to turn snow into ice cream from videos flooding our For You Page. Now, the platform has come to conquer the epitome of basic breakfast staples, making sandwich snobs out of all of us.
There is, of course, no wrong way to make an egg sandwich. Whether you fry, scramble, or prefer a runny yolk, the secret to a perfect egg sandwich is in its simplicity. It's in the delicious combination of things you probably already have on hand. It's in the nostalgia of biting into something that feels reminiscent of diner food — remember eating in restaurants? However, if you're looking to experiment with your egg sandwich, here are seven hacks courtesy of TikTok.
If all else fails, Trader Joe's has an Egg McMuffin dupe that's too easy to mess up.