The Tricky Notification Politics Of The Unsent DM
It goes down in the DMs… or does it?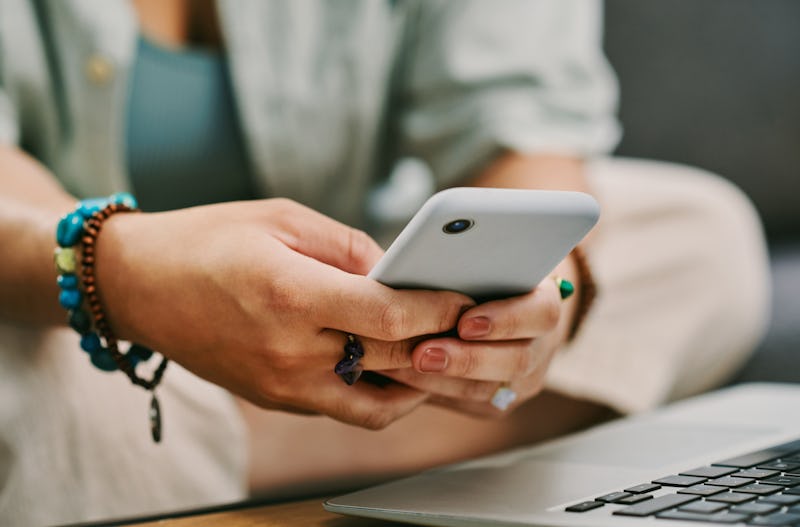 Delmaine Donson/E+/Getty Images
You know that sinking feeling when you realize there's something wrong with your Instagram DM after you've already sent it, whether it's an awkward typo or a message to the wrong person (or worse still: a DM to the wrong person about that person). In a panic, you might immediately reach to unsend the DM. But wait — does Instagram notify someone if you unsend a DM?
"I like that unsending DMs can help get rid of messages that have mistakes," Olivia, 19, tells Bustle. "But it can also make me freak out a bit — if it's an important conversation and I really don't want someone to see what I just unsent, I get worried that they'll see a notification and wonder what it was."
To unsend an Instagram message, just hold down on the message you want to get rid of until the "Unsend" option pops up. While that mortifying DM you accidentally sent will seem to disappear into thin air, there are still risks you should be aware of the next time you press "Unsend." Here's what you should know about unsending DMs on Instagram.
Does Instagram Send A Notification When You Unsend A DM?
In many users' experiences, Instagram doesn't send notifications for unsent DMs. I tested unsending DMs to myself on several different phones and didn't receive a notification or any other type of indication that the DMs were unsent. The original notification with a preview of the message also disappeared when I unsent the DM.
That being said, unsending a DM doesn't cover your tracks entirely. If you enable Google Chrome notifications on a computer, Instagram will send notifications for unsent messages, but it's not clear if this is the case on other systems. When I tested it, notifications appeared on both Mac and PC devices. It seems like notifications for unsent DMs can appear on desktop devices, but not on mobile devices. (Bustle has reached out to Instagram to confirm which types of devices receive notifications for unsent DMs, and we will update this post when we hear back.)
Regardless of whether or not they'll get notified, it pays to be cautious when you send a DM. Even if the recipient doesn't have Instagram notifications on their computer, it's always possible for them to see the DM — either from the original message's notification or just by having the convo open — before you unsend it. If you're concerned about the lasting history of your DMs and want them to disappear after they're viewed, you can always turn on Vanish Mode, which deletes messages immediately after they're seen and sends notifications whenever they're screenshotted.
How Can I Know If Someone Unsent A DM?
Logging into Instagram and enabling Chrome notifications on a computer may show you notifications when someone unsends a DM, though it won't show you the content of the unsent message. If you suspect that someone may try to unsend a DM during a convo, you can also keep the chat open and read each message immediately as it's sent. If you've reported inappropriate DMs or spam and those messages get unsent, don't worry; they'll still be included in your report.
If You Delete An Instagram Chat, Does The Other Person Know?
To delete an Instagram chat, open your DM inbox and hold down on the convo you want to get rid of until the "Delete" option pops up. When you do this, the chat will be cleared from your DMs, but the other user(s) in the convo will still have the chat — and all its messages — visible to them. They won't know that you've deleted it on your end.
TL;DR? Users on mobile devices likely won't receive a notification for unsent DMs, whereas users on computers are able to. That being said, it's always possible for the recipient to read that spur-of-the-moment confession before you unsend it.
This article was originally published on