12 Vegan Thanksgiving Items At Trader Joe's To Up Your Feast
You don't need to be vegan to enjoy these.
by Kaitlyn Wylde and Lauren Grant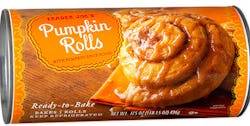 Thanksgiving doesn't have to be lackluster for vegan diners, especially when stores like Trader Joe's put a little extra effort in to make the holiday delicious for everyone. If you're vegan and you feel like Thanksgiving dinners are leaving you out, you must not have tried the vegan Thanksgiving items at Trader Joe's. There are so many holiday dishes that will give you something to look forward to. With a little help of a guided shopping trip, you can have a plate just as full and fulfilling as everyone else at the table. Trader Joe's actually has so much vegan food that you could easily host your own vegan Thanksgiving. They've got turkey substitutes, stuffing alternatives, and desserts and sides that are all completely free of animal products and totally delicious.
So that you're not too overwhelmed when you head to the store, we've put together a list of a few things that you should keep an eye out for. That said, while you're there, ask a team member if they've added any new vegan Thanksgiving items to their shelves, a the vegan inventory seems to be ever-expanding, thankfully. This year, be thankful for vegan Thanksgiving options and cheers to the opportunity to get as stuffed as you please.
This article was originally published on