5 Ways To Take Action In Honor Of Ruth Bader Ginsburg This Week
"Fight for the things that you care about."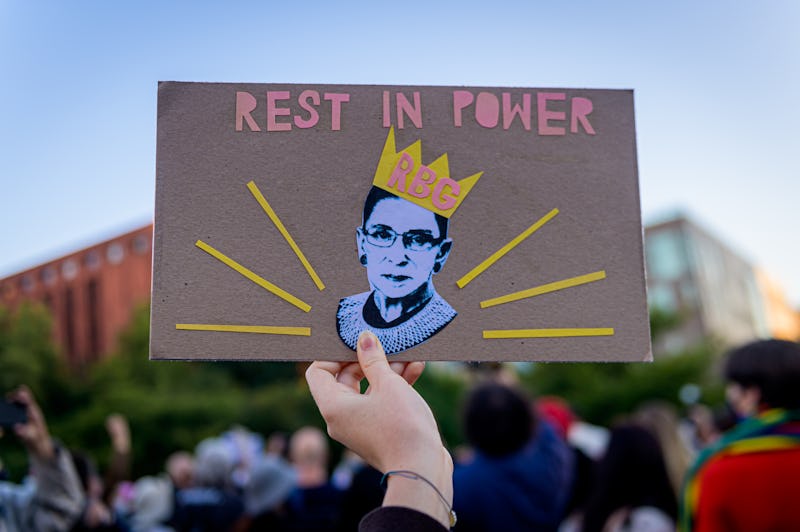 Erik McGregor/LightRocket/Getty Images
The death of Supreme Court Justice Ruth Bader Ginsburg at 87 from metastatic pancreatic cancer on Friday, Sept. 18, devastated millions, and caused a worldwide outpouring of powerful remembrance. Now that the initial shock has passed, though, you may be reading about the Notorious RBG's life achievements — her landmark decisions, her thundering dissents, her powerful effects on history — and wondering what will fill the void. Well, one of the answers is us.
Ginsburg devoted her life to justice, the word of law, and the fight for gender equality. She wasn't a perfect paragon of progress – she voted to allow an oil pipeline through the Appalachian Trail in 2020, and issued an apology in 2016 after calling Colin Kaepernick's NFL kneeling protests "dumb," for instance — but as she said on one memorable occasion, she hoped her legacy was "to make life a little better for people less fortunate than you."
If you're feeling bereaved or lost with her passing coming so close to the election, you can continue that fight. Volunteer for a legal aid society in her honor, or call Republican senators who might be convinced not to confirm President Trump's nominee for her replacement — it was her dying wish that she not be replaced until a new president came into office. If you have the funds, there are lots of places to donate to support candidates who share her values, or you can learn a little SCOTUS history to inform your next phase of activism. Below, find five ways to take action this week to honor the legacy of Ruth Bader Ginsburg.
Ruth Bader Ginsburg may be gone, but her legacy continues. And if she energizes a host of inspired people to continue the fight for justice in 2020 and beyond, she'd probably be very well-pleased.