Why Dalian Atkinson's Case Is A Landmark Moment In UK Legal History
It took 5 years for the police officer involved in the ex-footballer's death to be convicted of manslaughter.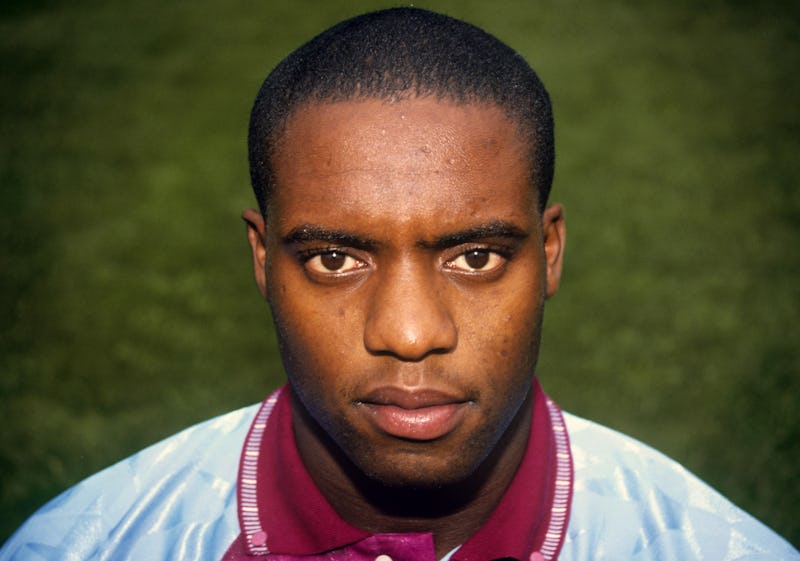 EMPICS Sport - EMPICS/PA Images/Getty Images
On June 23, 2021, West Mercia Police officer Benjamin Monk was convicted of manslaughter for the death of Dalian Atkinson. This marks the first time in 35 years that a British police officer has been convicted of murder or manslaughter while on duty.
Atkinson, a former footballer for Aston Villa, was killed in August 2016 after Monk discharged a stun gun for 33 seconds, and then kicked him twice in the head. Atkinson died 70 minutes after the incident took place.
Scouted as a teen footballer, Atkinson first played for Ipswich Town before moving up the ranks to Sheffield Wednesday and the Spanish team Real Sociedad. Then, as a player for Aston Villa, Atkinson helped the team win their 1994 League Cup final. He also scored Match of the Day's first-ever Premier League goal of the season in 1992.
Atkinson ended his playing career in 2001, and struggled with physical and mental health issues. He had pre-existing medical conditions, including an enlarged heart and kidney disease, the latter of which resulted in routine dialysis appointments that left him "knackered" and "always hindered", according to friends. He'd also disclosed his "worries and fears about his deteriorating health" to his sister Otis hours before he died.
Police were called to Atkinson's childhood home in Telford, Shropshire, on August 15, 2016, as he was experiencing a mental health episode due to his kidney failure. It was there that PC Monk tried to apprehend Atkinson, killing him in the process.
The Court Case
The initial investigation into Atkinson's death was conducted by the Independent Office for Police Conduct, and completed by October 2017. The Crown Prosecution Service (CPS) then charged PC Monk with murder and manslaughter in November 2019. The CPS also charged another officer involved, PC Mary Ellen Bettley-Smith, with assault, causing actual bodily harm after allegedly hitting Atkinson with a baton while he was on the ground. Monk and Bettley-Smith were in a relationship at the time of the incident, and had been since 2015.
Described as a "lengthy and complex process" by West Mercia Police Assistant Chief Constable Rachel Jones, Atkinson's case was then postponed due to the coronavirus pandemic, and so did not go to trial until 2021.
Taking place at Birmingham Crown Court in May, the jury heard in extensive detail how the events unfolded. Called to attend a disturbance in Telford, Atkinson was found suffering an acute mental health crisis. His behaviour, which the jury heard was "erratic and out of character" per the Guardian, resulted in PC Monk tasing Atkinson.
The stun gun initially failed to stop Atkinson, who allegedly threatened to send Monk "to the gates of hell". The police officer then preceded to tase Atkinson in "self-defence" for six times longer than the national average, 33 seconds, which resulted in Atkinson falling to the floor. Monk then preceded to kick Atkinson in the head, explaining that he believed Atkinson was still moving and trying to get up. Instead, Monk kicked him with such force that Atkinson had "patterned bruising" from the police officer's boots on his forehead. When reinforcements arrived, they said they saw Monk with his foot on Atkinson's head.
The kicks to the head were "significant in his deterioration", Dr Jasmeet Soar, a specialist in intensive care medicine, told the court. "The prolonged firing [of the taser] and the kicks don't just happen to be a coincidence around the time he would have died anyway," Dr Soar explained. "That changed his trajectory to one of dying."
Also speaking to the court, pathologist Dr Olaf Biedrzycki listed 15 other areas of "under-the-skin" bruising on Atkinson's body, including marks on his neck, shoulder, thighs, elbow, and bicep. Blood was also found on Monk's boots, which Biedrzycki described as "consistent with being caused by 'forceful' contact".
How Has West Mercia Police Responded?
Following PC Monk's conviction, West Mercia Police assistant chief constable Rachel Jones issued a statement outside the court. "Words alone cannot express the deep regret and shock I feel that I must stand here and address you today because a West Mercia officer has been found to be criminally responsible for Dalian's death," Jones said. "I am sincerely sorry and extend my apologies and deep condolences to Dalian's family and friends. You have demonstrated great dignity and strength throughout. Dalian's death has devastated his family, friends, and local community. It has also caused great shock and sadness throughout the police service."
Jones went onto describe how a "police uniform does not grant officers immunity to behave unlawfully or to abuse the powers bestowed upon us," before explaining that "PC Ben Monk behaved in a way that has been found to have directly contributed to Dalian's death, and he has been convicted as a result."
"We do not underestimate the impact of this case and today's verdict. It is wide-reaching and immeasurable. Nor do we underestimate the significant damage that it has done to the trust and confidence in the police locally and nationally, particularly to Black people. It causes grave concern within the police service," she continued.
"We work hard to build and maintain the trust and confidence of the communities we serve. However, when something happens to harm that relationship, we must stop, listen and work with the public, particularly those communities where trust is fragile, to strengthen those bonds. We recognise there is much to do."
What Has Dalian Atkinson's Family Said?
Before Atkinson's funeral in November 2016, his family described the extent of the former footballer's health issues. "We all did our best as a family supporting Dalian and being there for him," his sister Elaine told the Guardian. "One comfort we have is that he knew that he was loved, and he told us this. Dalian was supposed to have been admitted to hospital for treatment the day he died."
Atkinson's family also issued a statement following the conviction, describing how while they are "hugely relieved that the whole country now knows the truth about how Dalian died," they were "sickened" to hear Monk try to justify and "minimise the force he used on Dalian and exaggerate the threat Atkinson posed."
They were also appalled at how long the case took to go to trial, "especially when you consider that PC Monk's identity was known to the prosecuting authorities from Day One," the statement read. "By contrast, the murderer of George Floyd was convicted less than a year after his death. Our system of prosecuting police officers must work better in the future to get rid of these unjustifiable delays. No more excuses – no more delays."
Other Details To Note
In an interview with the Mirror, Atkinson's girlfriend, Karen Wright, described how he was "hounded by police" before his death. "Dee was a gorgeous soul. He's had life-long harassment from the police. He felt as though he was hounded by the police," she explained. "He was doing nothing wrong. The police were the last people he needed on the night he died. They inflamed the situation."
She gave an example of an incident with the police in 2013, where they arrested Atkinson after failing to give his full name when he was stopped in Shrewsbury. "He was just a Black man in a Mercedes and he was taken to the police station," Wright said. "He was poorly treated – he felt he had done nothing wrong and he thought it was excessive. He lived with that through his entire life."
As Rethink Mental Illness noted in a statement, "Black men [...] are over four times more likely to be detained under the Mental Health Act", and while "recognising that supporting someone in crisis can be challenging, police officers must have both the skills and aptitude to resolve such situations safely."
The statement continued: "We must see action to address the systemic failures that can increase the risk of violence or serious injury to people in crisis to prevent this from ever happening again."