Forestcore Is About To Take Over Your TikTok FYP
Here's everything you need to know about the trending aesthetic.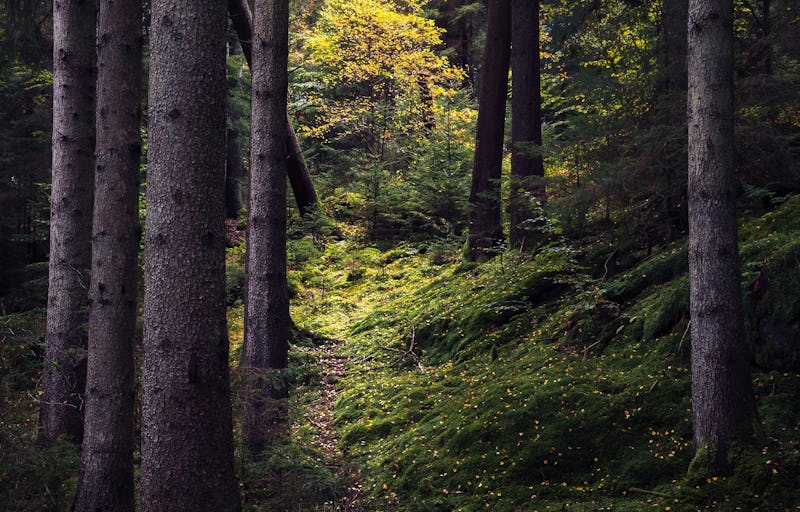 Shutterstock
With social media continuing to influence our food, fashion, and lifestyle habits, many of us are keen to discover the next big TikTok craze. When it comes to home decor trends, you may have noticed the increasingly popular "Forestcore" hashtag has been taking over the platform in recent weeks. But, what exactly is forestcore? Keep scrolling for everything you need to know.
This particular TikTok decor trend — which has amassed more than 167 million views as of publication — is favoured by those who aim to bring the great outdoors into the comfort of their own home with nature-inspired furnishings, colour schemes, and a lot of greenery.
"Forestcore is about creating a feeling of being outside and in nature," Leanne O'Malley of the online retailer Studio told Stylist. "This may be through dark colours, wood, stone, plants, and natural textures, which all help create this theme." O'Malley also claims that the "calming effects" of forestcore decor are a "contributing factor to why people are embracing nature and bringing in elements of the outside."
Scrolling through the forestcore hashtag on TikTok, you're sure to come across an abundance of inspiration if you're hoping to embrace the cosy, nature-themed trend in your home. However, tending to live plants to achieve the trending aesthetic is certainly not for everyone — but luckily, there are plenty of artificial alternatives.
"One simple way to achieve the forestcore look is to add a variety of plants and greenery to your space," O'Malley said, adding: "If you don't have green fingers, there are a vast array of artificial plants and ferns to choose from."