Everything To Know About Muslim Women's Day
March 27 marks the fifth annual celebration.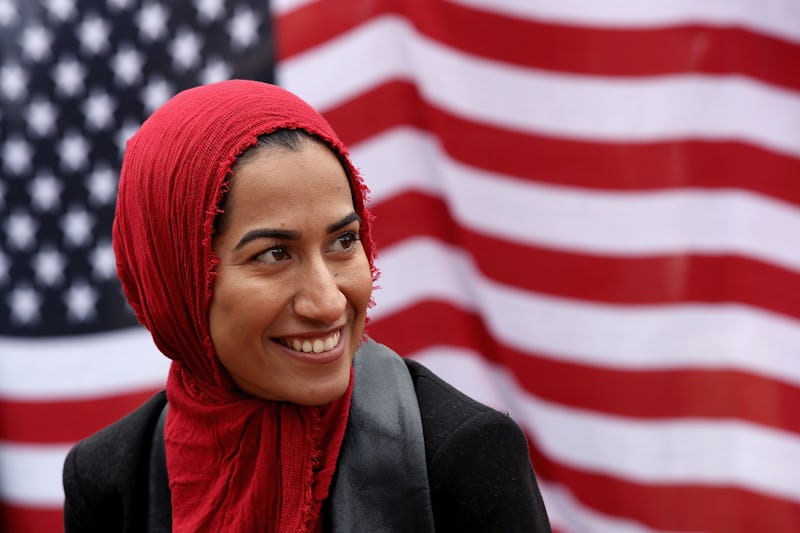 Win McNamee/Getty Images News/Getty Images
As Women's History Month comes to an end, it's time once again to pass the mic to Muslim women. In 2017, Muslim Girl launched Muslim Women's Day on March 27, as a response to the travel ban, in order to elevate stories and share experiences from the community in the mainstream media. Now, on the fifth Muslim Women's Day, many people are once again organizing to celebrate the day and elevate Muslim women's voices.
Each year, activists, allies, and media come together on March 27 to celebrate Muslim women and share stories and shout out empowering Muslim women, which can help fight back against hurtful stereotypes and hateful rhetoric.
In 2017, MuslimGirl.com Amani Al-Khatahtbeh tweeted why the day, was so important. "In current climate, Muslim women are rarely given the space to be heard above all the noise," Al-Khatahtbeh wrote.
Muslim Girl also explained exactly what the day means, and what you can do to support it:
This is a day to celebrate Muslim women and flood the Internet with positive representations of who Muslim women are. Anyone can take part, from uploading pics on social media of the Muslim women in your life to showing some love to your favorite Muslim women accounts to follow. One of the easiest ways you can create space for Muslim women is simply by hitting share or retweeting #MuslimWomensDay content on your social media and elevating the stories you care about.
The theme for 2021 is healing, renewal, and resilience. And according to Muslim Girl's site, this year will be focused on "holding space to talk about our journeys navigating the Trump era and COVID-19 pandemic, both collectively and individually." And to so, the Muslim Girl Foundation is hosting its first-ever digital summit — which is free for students — in celebration of Muslim Women's Day on March 27, 2021 to bring together media partners (including Bustle), influencers, and activists to join in discussions around "diverse representation, social impact, allyship and more."
This article was originally published on