How To Get Your Hands On Sony's New PS5
Retailers are restocking following issues at launch.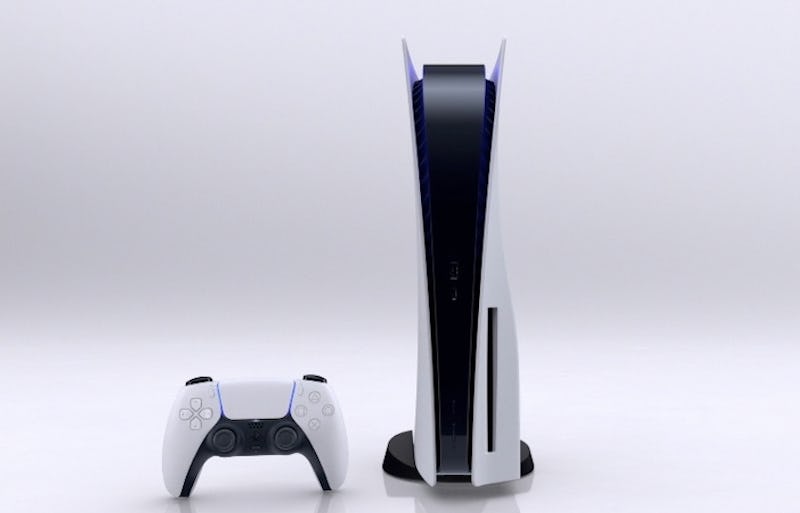 Sony
Four months following its release, Sony's PlayStation 5 is still one of the world's most sought-after pieces of tech. Gamers have faced numerous obstacles to get their hands on the PS5, from limited supply to scalpers netting thousands of consoles and selling them on for extortionate prices. However, a new year brings new restocks so here's how to buy the PlayStation 5 in the UK.
The PS5 has recently become the "biggest console launch in history," selling 2.1 million units in its first two weeks of sales according to GamesIndustry.biz. However, as units are selling so exceptionally quickly, many retailers across the UK were left with limited amounts of stock.
Sony Interactive Entertainment CEO Jim Ryan confirmed that the company had sold "absolutely everything" and that he had spent the majority of 2020 "trying to be sure that we can generate enough demand for the product" as well as "spending a lot more time on trying to increase supply to meet that demand."
Why Is The PS5 So Hard To Get?
Due to the coronavirus pandemic, sales of the PS5 have been online in the UK and not in physical stores. This led to vast amounts of site traffic on launch day, with many retailers like John Lewis, Currys PC World, and GAME unable to fulfil orders. Consoles are set to be restocked by GAME from Thursday (Feb. 11), the retailer says on their PS5 landing page per @PS5StockAlertUK on Twitter. The account also reports that Very's restock has allegedly been pushed to next week, and that Argos has a restock date for Feb. 23 & 24.
As the Independent notes, the large volumes of site traffic also account for scalpers using "automated systems that have been buying up the PS5 and then selling it on at inflated prices." You only have to scroll through eBay to find some consoles being listed at nearly £1,000 when its retail price is £449. As Video Games Chronicle reports, one scalper firm managed to secure 2,000 orders through GAME during the most recent restock, despite a '1 per customer' policy on consoles.
Where Can I Buy The PS5 Console In The UK?
To keep on top of when retailers have new stock in, it's best to follow them on social media to know the exact date and time, as well as stock monitoring accounts like @PS5StockAlertUK. But as the console has only been out for a few months (and is still significantly popular), it'll be much easier to get a PS5 later this year when the hype has died down somewhat and stock is at a more even level.
What's New With The PS5?
As Sony details on the console's official site, the PS5 comes with "a custom CPU (central processing unit), GPU (graphic processing unit), and SSD (solid-state drive) with integrated I/O (input/output) that rewrite the rules of what a PlayStation console can do."
The SSD drive is one of the consoles main draws, as it will lead to "quicker load times and improved technical performance" per PlayStation site PushSquare. This is evident in the extended gameplay demo for Ratchet and Clank: Rift Apart, where loading screens have become obsolete. Players will be able to enter new worlds instantaneously rather than waiting for it to load offscreen. The PS5 will be capable "of reading up to 5.5GB a second of raw data," which is a major difference from the PS4 and is faster than the new Xbox.
This all sounds impressive but as Gamespot writes "it'll be difficult to understand and appreciate the impact" of the console and things like "load time improvements" until players can have a hands-on experience with the console and its library of games.
What Games Are Available On The PS5?
A lot. During Sony's Future of Gaming presentation on June 11, more than "two dozen new games" was announced for the PS5 as BBC News writes, including some returning fan favourites. Series like Gran Turismo, Horizon Forbidden West, Hitman, Resident Evil, a remake of Demon's Souls and Ratchet and Clank are getting long-awaited additions, alongside GTA V which is getting yet another remaster. As is with any new console, a few new games will debut with it such as Spider-Man: Miles Morales, Call of Duty Black Ops: Cold War, Deathloop, Stray, and Pragmata. An upscaled PS4 version of Cyberpunk 2077 is available to play, with the enhanced PS5 version set to drop in late 2021.
More games were announced during the showcase, including a new God of War game titled Ragnarok, Hogwarts Legacy, Final Fantasy XVI, Sackboy A Big Adventure and Devil May Cry 5 Special Edition.
This article was originally published on