Brace Yourselves, Bud Light's Dropping A Pumpkin Spice Hard Seltzer
It's like the PSL but with a kick.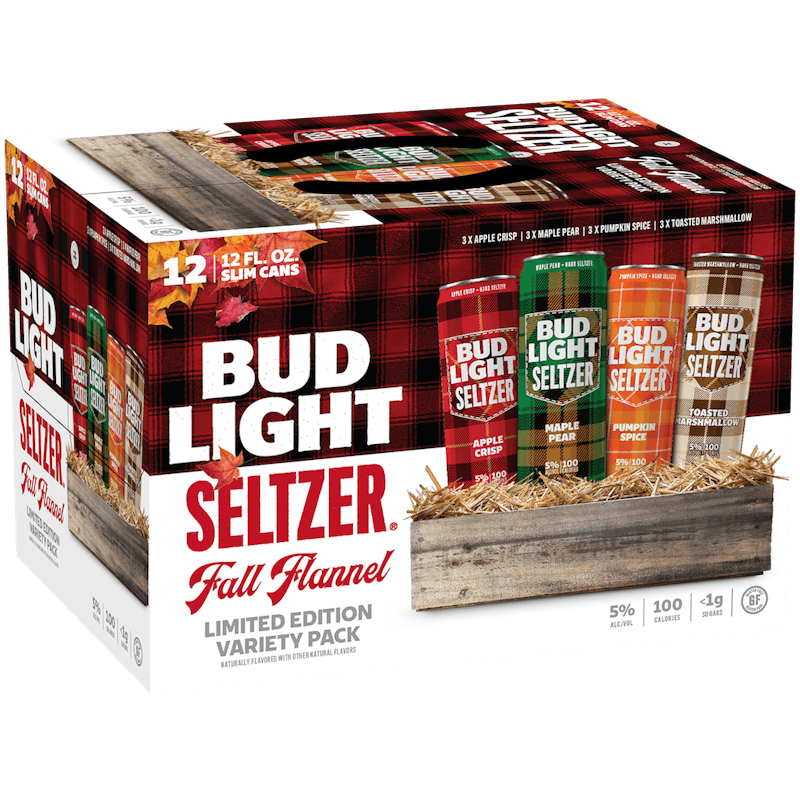 Bud Light
Just in time for the first leaf to even think about falling, the beverage gods swooped down with a hardcore adult makeover for the beloved pumpkin spice drink, because honestly, it was time. If you can't get enough of that nutty, warming, spice blend during the day, you can now crack open a can of Bud Light Pumpkin Spice Seltzer (PSS) at happy hour. Heck, trade in your PSL for a PSS at brunch if you're feeling extra festive. Nothing says, "I'm not salty about losing my summer vacation because of the pandemic, so now I'm learning hard in to fall" like a cheap can novelty brew.
The new hard seltzer flavor is a part of a season multipack, which also includes Toasted Marshmallow (TMS), Maple Pear (MPS), and Apple Crisp (ACS), for a full-spectrum autumnal flavor explosion. While you'll have to wait until Monday, Sept. 6 to experience the flavor IRL, Bud Light is attributing "pumpkin, cinnamon, nutmeg, and vanilla flavors" to the PSS, "sweet marshmallow with a hint of chocolate flavor paired with the refreshment of a seltzer," to the TMS, "a refreshingly tasty pair of maple syrup and pear flavors," to the MPS, "all the flavor of apple pie with all the refreshment of a seltzer," to ACS.
Dubbed the Fall Flannel Limited Edition Variety Pack, this seasonal treat has 5% ABV, which is the same as a White Claw, if you're wondering just how tipsy fall in a can will render you. And while it might sound like the kind of drink that's potentially too sweet to drink without getting a massive headache, Bud Light claims it only has one gram of cane sugar per can, which might make it the perfect 12-pack to settle in with, you know, next to the fire pit, beside a scarecrow, under a harvest moon, etc., etc.
In peak elite brand form, the official Bud Light Twitter account debuted the new drink on Aug. 31, and is still chatting with fans in their replies to celebrate. What's more, they're taking a cheeky stab at Starbucks by encouraging people to tweet their flavor order with the hashtag #FallFlannelSeltzer for a chance to receive a reply with your name spelled horribly wrong, plus other IRL perks, like merch.
Bud Light hasn't said yet how long the seasonal drink will stick around, so if your harvest heart beats for this kind of speciality, you'll want to book it to the booze aisle this weekend while supplies last.