Here's What To Do If You Can't Add Music To Your Instagram Stories Yet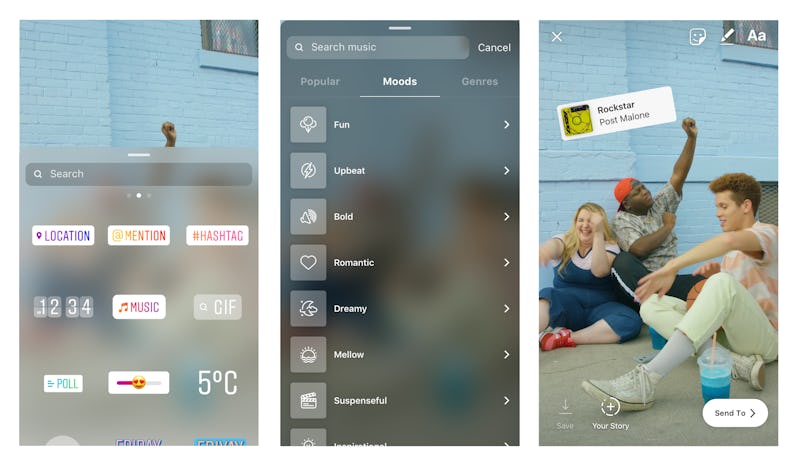 Instagram
If hearing about Instagram features is music to your ears, you're going to really swoon for Instagram's latest update which is, well, literally music to your ears. On Thursday, Instagram released yet another awesome feature that allows users to add music to their Stories. But if you just rushed to open up the app only to find that you don't yet have the update, you're probably wondering why you can't add music to your Instagram Stories yet. Fair question.
The short answer is that Instagram likes to roll out its updates slowly to minimize congestion and tech issues. As you may have noticed with some of the last awesome updates like IGTV and Video Chat, they're not immediately available to everyone in the world — they take a hot minute to trickle out to every mobile device. But after a few days, we're all back on the same page so don't get too distressed if today is not your day to become Hans Zimmer 2.0.
That said, here's what you're missing out on: the new music feature allows you to give all of your Instagram Stories a soundtrack of your choosing. Instagram has a growing library of songs to pick from and they're all available in the Stickers page. Just in the same way that you would have added a GIPHY to your Story, you can now add a song to your Story. And on top of picking the song, you can also choose what part of the song you want to include.
Basically, Instagram is giving you a new opportunity to express yourself by letting you show off your creativity and make the most out of your content. But first, of course, you have to get the update. So let's figure out why you don't have access — at least not yet.
Check For Updates
If your phone doesn't automatically install updates for you, then head to the App Store to check for an Instagram update. Type out "Instagram" in the search bar, click on the app, and if you don't have the latest update, the page will have a little blue button that says "update." The new feature is only on versions 51 or higher.
Log Onto The WiFi
If you're still not seeing the possibility to update the app in the App Store, your phone might not be connected to a WiFi network. If you're not on WiFi, open up Settings, click on WiFi, and select the network of your choice. A password will usually be required. After you do this, check the App Store one more time. Sometimes cellular networks don't relay the updates as expediently as the internet does.
Sign In & Out Of The App
Logging in and out of the app gives it a chance to fully load and reload. Sometimes this will do the trick in boosting the update's availability on your device. Once you're in the app, go to your profile, click the three horizontal lines in the upper righthand corner, and select "Settings." There should be an option to log out if you scroll all the way to the bottom of the page.
Delete The App
If you still don't see the update, you can delete the app from your phone and then re-install it. You'll have to go back to the App Store to download the app and your data again from the server. If there was a bug getting in the way of your update, this might straighten things out. This method also gives the app a chance to fully reboot which can make it run more efficiently.
Relax
If you've tried all of the above, there's nothing left for you to do other than take a deep breath and wait. Eventually, the update will make its way to your phone, but in the meantime you'll just have to be patient. As you wait, Instagram will be fixing early reported issues and fine-tuning the app's performance, so by the time do you have access to it, it will be running smoothly.
On the other hand, if this process did work for you, Instagram's blog post on the new music sticker walks you through what to do next:
When you tap to add a sticker to a photo or video in Stories, you'll now see a music icon. Tap on it to open a library of thousands of songs — you can search for a specific song, browse by mood, genre or what's popular and tap the play button to hear a preview. When you've selected your song, you can fast-forward and rewind through the track to choose the exact part that fits your story.
It also points out that you can add music before you even start recording your video. In no time, you'll be making Instagram Stories worthy of Webbys.
This article was originally published on