3 Zodiac Signs Aquarius Is Most Likely To Marry
This rebel of the zodiac won't settle down with just anybody.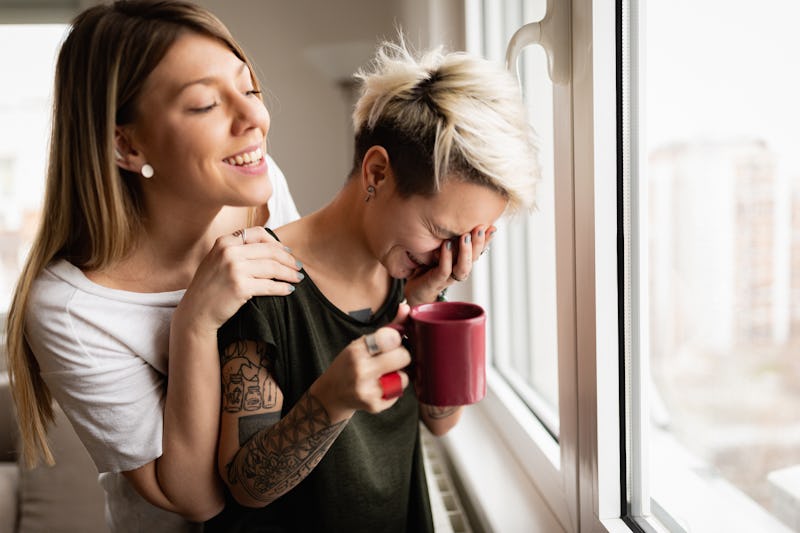 NoSystem images/E+/Getty Images
Truth be told, marriage may be a little too conventional for this rebel of the zodiac. But that doesn't mean that Aquarius is completely against the idea of committing to someone long-term. They just do things their own way and need a partner who's cool with that. Since Aquarius is one of the few zodiac signs who tends to be happier single than in a relationship, winning their heart won't be easy. However, there are three zodiac signs Aquarius is most likely to marry. If you're an Aquarius, you'll be happy to know that those three signs will never make you feel tied down.
"Progress is critical for this Air sign, so their relationships need to be innovative and forward-thinking just like them," astrologer Clarisse Monahan tells Bustle. "Ruled by Uranus, the 'Joker' of the zodiac, Aquarius can be a little quirky. Therefore they also tend to be attracted to those who also march to the beat of their own drum."
In order for Aquarius to commit to someone, they must have a strong mental connection with them, or else the relationship will never take off. According to Monahan, Aquarius signs are super intellectual and logical in nature, so they need a partner they can comfortably share ideas with. They're also attracted to people who are unique, independent and have no problem standing up for their beliefs. Bonus points if they're passionate about a cause.
Aquarius can be pretty picky when it comes to love, but there are a few signs that will make them want to commit. With that said, here are the three zodiac signs Aquarius is most likely to marry, according to Monahan.