3 Zodiac Signs You're Most Likely To Marry, Based On Your Zodiac Sign
Consider your soulmate's moon, Venus, and Mars signs.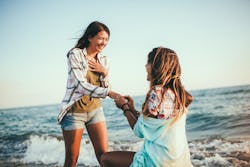 Shutterstock
I'd like to propose a new dating show, where it's revealed which three zodiac signs you're most likely to marry, and from there, you get to vote them off one by one, Bachelorette-style. But instead of choosing from folks who just want to be on reality TV, you're selecting from people who are compatible with you, astrologically speaking.
That means that your signs make for a good combination in terms of what you value and what you want out of life. And that other aspects of your astrological chart align as well, including the element associated with your sign.
"Signs of the same element will be compatible, and signs with the opposite element can strike up chemistry together (opposites are air/fire and earth/water)," Emily Ridout, MA, astrologer, tells Bustle. "Generally, [you want to] avoid direct opposites (the sign six months away from yours), unless your sign is mutable (Gemini, Virgo, Sagittarius, Pisces)."
It would also be necessary to look at a person's moon, Venus, and Mars signs. "For a partnership to work," Ridout says, "you'll need several significant points of compatibility in your charts and a couple of points of slight friction (to keep you both from stagnation)."
My proposed dating show would suss all that out, leaving you with the three best options. But as we both wait for it to be created, you'll just have to read on below for an expert take on which signs you're most likely to marry based on your zodiac sign.
While astrology isn't everything when it comes to who you will marry, these three zodiac signs are the folks you'll be most drawn to, and who will make it seem easy to envision a future together.
Experts:
Lisa Barretta, astrologer and author
Rebecca M. Farrar, MA, archetypal astrologer
Emily Ridout, MA, astrology teacher
This article was originally published on