You'll Swipe Right On These 3 Zodiac Signs, Based On Their Profiles Alone
There are no fishing pictures in this game.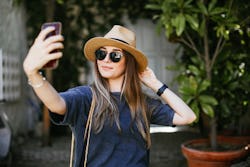 ozgurcankaya/E+/Getty Images
First impressions can be everything, and that's especially true when you're using dating apps. For example, upload too many pictures of you holding a big fish, and the number of quality matches goes down. Sure, if it's meant to be, the right person for you will swipe right regardless of your profile. But why settle for just an OK dating profile when you can have a really great one? If you're looking to step up your game, you may want to take pointers from Taurus, Leo, or Libra. According to an astrologer, these three zodiac signs most likely have the best dating apps profiles.
If you spend just 10 minutes swiping through Tinder, you'll see that not everyone puts a ton of effort into their dating profile. Astrologer Jessica D'Angio tells Bustle that "Pisces have no ego to speak of, so it's unlikely that they'll have photos that are posed or polished."
Aquarius and Sagittarius are two signs that won't invest too much time and energy into maintaining their dating profiles either. According to D'Angio, Aquarius can be a bit flaky. They're social, intelligent, and super friendly. But they also get bored fairly quickly, and will likely never think about what's on their profile again once it's done. Sagittarius can act the same way — although they may have some really cool travel photos to act as conversation starters, they're usually too busy to update their profile. You'll be left looking at photos that are a few years old.
If you want to see some quality profiles, D'Angio says these three zodiac signs are most likely to have the best online dating profiles.