9 Expert Tips For Better Dating App Profile Photos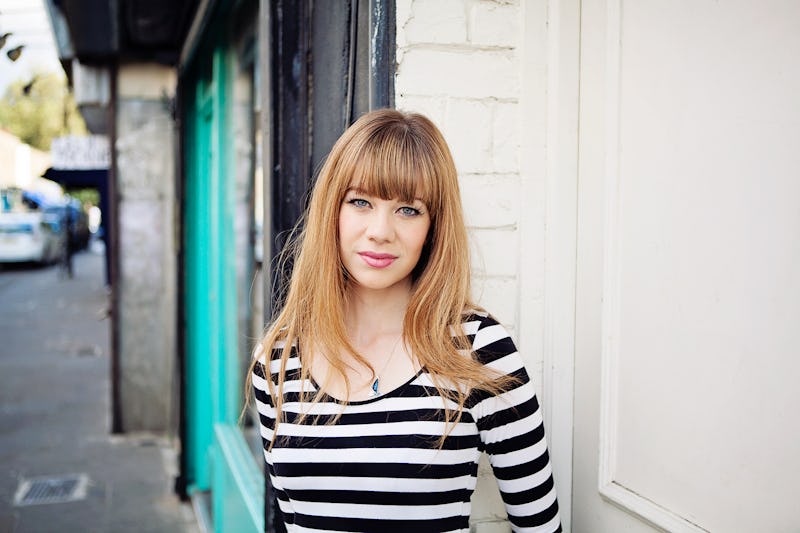 Raise your hand if you've ever, a) sent a screenshot of a terrible Tinder profile picture to a friend, b) been sent a screenshot of a terrible Tinder pic from a friend, c) wasted way more time than you should have scrolling through one of those compilations of terrible online dating photos. OK, put your hands down now — because I know you all have at least one hand up in the air. That's because bad online dating profile pictures have become something of a trope as we've all adjusted to this new way of meeting and falling in love. And while your profile pictures probably aren't as ridiculous as some of the ones you've laughed at, are they as good as they could be?
Saskia Nelson is a professional photographer and the founder of the dating photography business Hey Saturday. (Her other company, Hey Tuesday, focuses on business head shots. See what she did there?) Nelson knows better than anyone what it takes for a dating profile photo to stand out from the crowd.
"I've learned a lot over the past few years about what makes a great dating profile photo," Nelson tells Bustle. "A good place to start is to look at your current photos and ask yourself if your dating photos look good. Help tell your story? Make you stand out from the crowd?"
If your answer is "no" or "maybe," follow these nine tips — including examples of Nelson's work — for great dating profile photos and watch the dates roll in.
1. Take Good Care Of Yourself Beforehand
"Looking good is really all about feeling good, and feeling good about yourself is the first step to having great dating profile photos," Nelson says. "In the lead up to getting your photos taken, take good care of yourself — whatever it takes to remind yourself how much you love yourself. If you need to, treat yourself to a new outfit that makes you feel a million dollars, put on your highest heels, get in the Beyoncé state of mind and make sure you kick ass in your photos. You want to look like you, but you on a great day."
2. Make The Same Amount Of Effort That You Would On A First Date
"Make the same amount of effort in your dating photos as you would for a first date," Nelson says. "For some people that means getting their hair cut and blow-dried, buying a new outfit and getting their makeup done in a big name department store. For others, it means sliding into their favorite jeans and heels and adding some extra eyeliner. We're all different and your photos need to recognize that and be as authentic as possible to ensure you meet expectations on your first date."
3. Dress Well — But Dress Like You
"The quickest and easiest way to tell people more about who you are is through your clothes," Nelson says. "You can tell a lot about someone by the clothes they choose to wear, so make sure you wearing clothes in your dating photos that represent the real you. Love dressing up in designer [clothes]? Then include them in your shot. Like chilling in jeans and a tee? Then you know what to do. But aim to look as good as you would at the first date."
4. Go Somewhere You Love
"Take a minute to think about what locations would help tell people a little more about you," Nelson says. "Do you love going to the park or visiting public gardens, heading to quirky markets, having a coffee by the canal? Well, head there for your photos. If you're a bit more urban and edgy, you might want to head to the coolest part of town and include some cool street art or pop up shops as a backdrop. Be careful not to choose anything too messy behind you, though — the background is there to show you off to your best, not distract people."
5. Include A Prop That Showcases Something You're Interested In
"Props are a quick and easy way to tell people more about you, plus, even better, they give you something to do with your hand if you're a bit nervous in front of the camera," Nelson says. "Typical props that I love and that work well are hats, cameras, glasses, books, newspapers, bikes, big headphones, clutch bags, boxing gloves, or yoga mats."
6. Do What You Love
"If there's something you love doing, that can be captured easily in a photo, then head out and do it," Nelson says. "Browsing market stalls, roller-blading, reading, and sitting in cafes, for example, can all be captured easily in natural, unposed shots making great dating profile photos."
7. Embrace Bold Colors
"Tinder recently announced that they've found using color in dating profile photos is a winning way to attract more dates," Nelson says. "As a dating photographer, I have been using this tactic for years. The clever use of bold colors is a really easy way to make your photos jump off the page — attracting people to click on your profile. Red is a particularly good color for attracting both men and women alike. If you're not into wearing much color, check out some colorful backgrounds instead."
8. Be The Main Focus Of The Shot
"The most popular dating profile photos just have one person in the shot, and that person is the most interesting thing in the shot," Nelson says. "Some people still insist on using photos of themselves with other people but by doing this, you're creating unnecessary obstacles that put people off from checking out your profile. Firstly, they may decide there are too many people in the shot and they can't be bothered to find you – takes up too much time. Or they may decide they don't like the look of your friends! Or perhaps, even worse, they may like the look of your friends too much and would prefer to date one of them instead. Keep things simple and stick with a photo of just you. A very good one. And watch the dates roll in."
9. Go For Quality
"A tipping point is coming really soon when it's going to be unacceptable to use blurry [smartphone] photos, old holiday snaps and/or bathroom selfies to create your dating profile," Nelson says. "We live in a visual world and, more and more, people are wanting a better quality experience online, whether they are shopping, gaming or watching shows. Dating will be the same. Pretty soon, people will start skipping over poor quality images and head straight to the profiles where people have made the effort to get some light, bright good quality shots. You heard it here first."
Images: Courtesy of Saskia Nelson (10)