3 Zodiac Signs Most Likely To Break Capricorn's Heart
This goat was born to conquer the world, not relationship drama.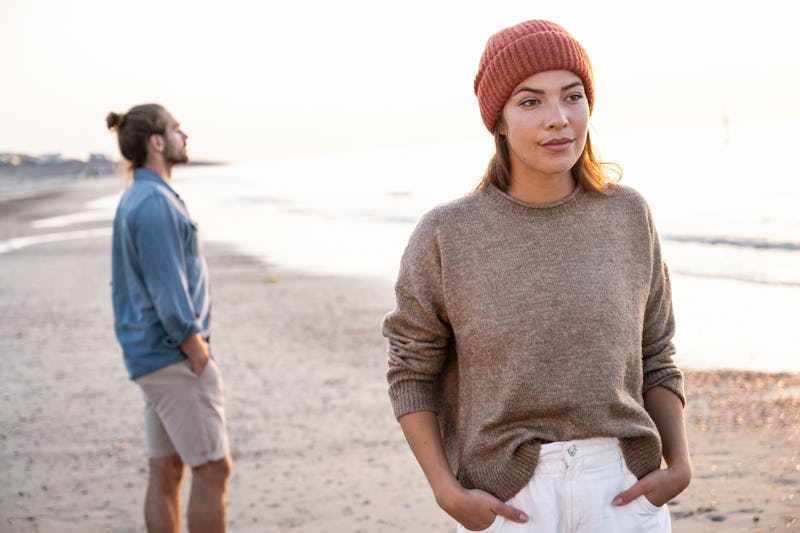 Westend61/Westend61/Getty Images
When you're a Capricorn who was born to conquer the world, you have very little time for relationship drama. You take finding love very seriously, and only the best will do. Although finding the right person to give you heart can take some time, knowing which zodiac signs are most likely to break Capricorn's heart can make searching for love a little easier.
"Being a grounded Earth sign, Capricorn is very methodical and deliberate about whom they choose to love," Kristina Semos, astrologer and owner of AstroOils, tells Bustle. "Yes, they can get 'swept away' with passionate feelings like anyone else, but the difference is, they won't make their ultimate choice on those feelings alone."
According to Semos, Capricorn rules the 10th House in astrology, which oversees career, long-term goals, tradition, and success. In love, this means that Capricorn will want a partner who can either boost their reputation or support their long-term ability to achieve. Capricorns are into old-school romance and like taking their time getting to know a potential partner before taking things to the next level. They're not very emotional or expressive with their feelings either. But when they do tell someone how they feel, it's for real.
Capricorn is a private sign who cares a lot about its reputation. A partner who likes airing out the dirty laundry of the relationship, calls out their flaws, or embarrasses them in any way will hurt Capricorn deeply. So, if you're a Capricorn, you may want to avoid dating the following signs. According to Semos, these three zodiac signs are most likely to break your heart.