3 Zodiac Signs Most Likely To Meet Their Soulmate During Quarantine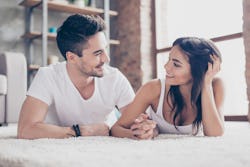 Shutterstock
Finding "the one" while you're stuck in quarantine feels like the premise of a new Netflix rom-com. But falling in love, emotionally connecting, and building a meaningful relationship with someone you met on Tinder one boring Sunday afternoon is possible, especially if you're an Aries, Cancer, or Scorpio. According to an astrologer, these three zodiac signs are most likely to meet their soulmate during quarantine.
If you've felt like dating has been tough lately, rest assured you're not alone. As astrologer Mary Cole tells Bustle, it's been a pretty chaotic year, astrologically speaking.
"Right now, we're experiencing several planets in retrograde, which makes establishing a connection difficult due to communication mishaps," Cole says. "During the fall, Mars will also be in retrograde, which essentially puts your sex drive on hold. However, this lack of distraction may push people to make more logical choices when it comes to love."
According to Cole, this isn't really an ideal year to find a soulmate. But there are pockets of time in which it could happen like after Mars goes retrograde, or when Jupiter enters Aquarius, which is when people will foster a lot of mutual respect for one another.
Some zodiac signs will also have better luck than others, especially if they take advantage of quarantine.