3 Zodiac Signs Most Sexually Compatible With Aquarius
This sign is known for falling in love with their friends.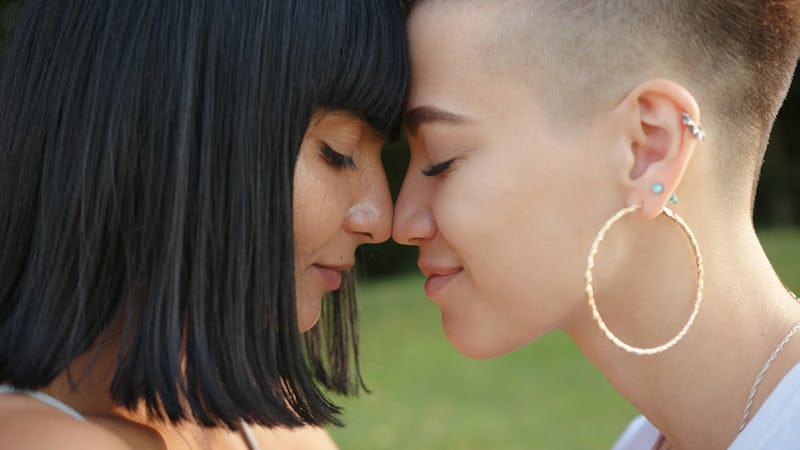 Teraphim/E+/Getty Images
When your zodiac sign is known for being open-minded, unpredictable, progressive, and a little eccentric, you just know that vanilla sex isn't going to be your thing. Unfortunately, since the Aquarian taste is so varied and ever-changing, finding a partner who's always down to try new things in bed isn't always easy. Luckily for you, the three zodiac signs most sexually compatible with Aquarius won't be afraid to experiment with you.
"Who isn't intrigued by an Aquarius," astrologer Clarisse Monahan tells Bustle. "They're mystifying creatures, with their cool detached almost alien-like manner, and the usual faraway look in their eyes. The symbol of the sign Aquarius is the water bearer, and many people think Aquarius is a water sign. However, au contraire, this is the quintessential air sign. Air signs dominate the world of ideas, so sex for Aquarians tend to begin in mind."
Aquarius rules the 11th House in astrology, which is all about social groups. Because of this, Monahan says, they tend to meet a lot of their partners through friends. Many times, friends even end up turning into sexual partners.
When it comes to the bedroom, astrologer Lupe Terrones tells Bustle that Aquarius loves being in charge. They're freedom-loving signs. If they submit to someone, even in a sexual way, it would "translate to real life and hinder their beloved freedom," Terrones says. It is an issue they'll run into with a handful of signs, but the following zodiac signs know how to loosen and warm the typically "cold" Aquarius up. With that said, here are the three zodiac signs most sexually compatible with Aquarius, according to Terrones.