The Zodiac Sign You're Most Compatible With In Bed
You can have hot sex with someone even if your signs aren't a match romantically.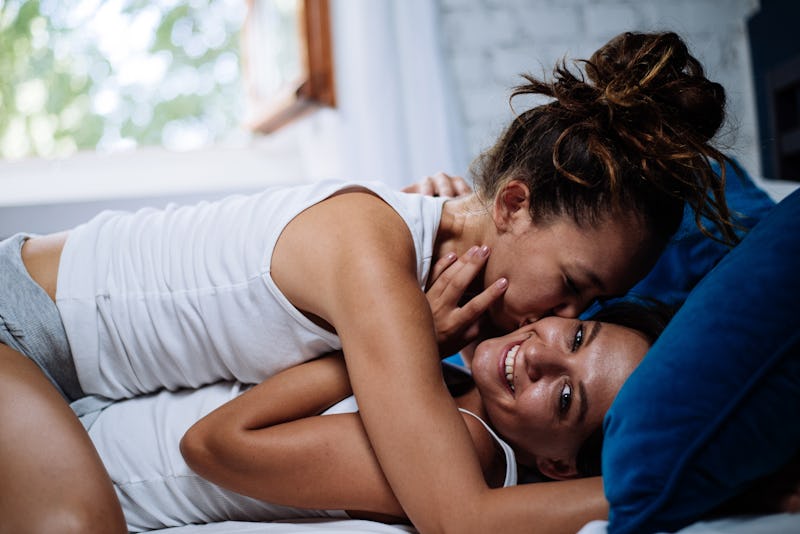 Fabio Formaggio / EyeEm/EyeEm/Getty Images
As much as you might wish that sex was guaranteed to be a passionate, intimate, mind-blowing experience every time, the reality is that bad sex does happen — and it's unlikely that you'll have off-the-charts chemistry with every partner you have. That being said, wouldn't it be great if you could tell how sexually compatible you are with someone before you actually got into bed together? Unfortunately, that's much easier said than done, but if you're into astrology at all, you'll know that figuring out which zodiac signs are most compatible in bed is a simple way to get a better idea and (hopefully) ensure that your sex life is never lacking.
"Astrology can get complicated and there are many ways to assess a relationship, but the easiest way is to look at the aspects (the distance) between two sun signs to see whether you're compatible or not," Jaye, an astrologer at Gifted Astrology, tells Bustle. "Typically, signs that are four signs apart from each other are the most compatible because the distance creates a trine, which gives the energies ease and flow. Often, this match can be the yin to your yang and complete your life picture."
Of course, how sexually and romantically compatible you are with someone depends on much more than astrology alone, and it's totally possible to have hot sex with someone even if your signs aren't technically compatible. Still, it doesn't hurt to sate your curiosity and find out which sign might have the special ability to blow your mind in the bedroom. Here's which sign you're most compatible with in bed, based on your own sign — plus some handy tips on how to really please each sign.
Ultimately, how sexually compatible you are with someone isn't necessarily predictable, and sexual chemistry doesn't always happen right off the bat. But fret not: as long as you're willing to communicate openly and try new things, there's the potential to have amazing, orgasm-filled sex with anyone — no matter their sign.
Expert:
Jaye, astrologer
This article was originally published on