19 Zoom Work Happy Hour Ideas To Fight Video Chat Exhaustion
Nothing says "team bonding" like silently watching a movie together.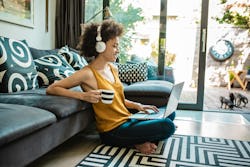 blackCAT/E+/Getty Images
At this point, we are all more than familiar with the Zoom happy hour. It is, after all, the safest option as experts recommend you still don't go to bars and restaurants amid rising COVID-19 cases. We are far beyond the point of figuring out how to organize a virtual work happy hour and well into the territory of trying to keep our virtual happy hours interesting.
If you're experiencing Zoom fatigue, you're far from alone. Experts liken constant virtual hangouts to exhausting in-person happy hours... except at the bar where this happy hour is being held, you run into your family, your friends, your coworkers, and your romantic partner. We're holding all of our social interactions in the same virtual space and, often, in the same physical space. Who among us hasn't taken a work meeting, a friend catch up, and a Zoom call all from the comfort of your bed?
One of the easiest ways to alleviate virtual hangout fatigue is by allowing breaks like you would during an in-person hangout. It may feel strange to excuse yourself to go to the bathroom during your work happy hour, but chances are, most other people on the chat want to do the same. Give yourself and your coworkers some natural breaks. Then, try out some of these Zoom work happy hour ideas to help combat video chat exhaustion.
If all else fails, you can always turn your next work happy hour into a Netflix party. Nothing says "team bonding" like silently watching a movie together.