19 Zoom Happy Hour Themes To Get Through Yet Another Month Of Quarantine
You can break out your Halloween box early.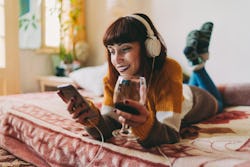 martin-dm/E+/Getty Images
As we settle into yet another month of social distancing — yes, you should still be social distancing — finding ways to spice up your Zoom happy hour has become essential. The novelty of seeing your friends' and family's Brady Bunch-esque boxes has long worn off. We are deep in the throes of the virtual happy hour.
Until it's safe to go to bars and restaurants, having a happy hour over Zoom is your best bet for keeping yourself and others healthy. Social distancing, along with wearing a mask when physical distancing isn't possible, is still one of the easiest and most effective ways to prevent the spread of coronavirus. So, unless you and a small handful of friends can meet outdoors, where you and your respective germs can easily stay at least six feet apart, sipping sangria over Zoom should still be your go-to happy hour spot.
If you've exhausted all your Zoom happy hour games — even the happy hour games that aren't drinking-centric — and the fun Zoom backgrounds just aren't cutting it anymore, it may be high time for you to do the inevitable: throw a thematic Zoom happy hour. Listen, if Ariana Grande isn't too good for a Midsommar-themed party, neither are we. And these are desperate times, people. Here are 19 themes for your next Zoom happy hour.
If all else fails, say screw it, break out the champagne and party horns, and throw a NYE party. Decide the new year begins when you say it does. 2020? I don't know her.