How To Support Gun Control Reform Right Now
Donating is one way you can help.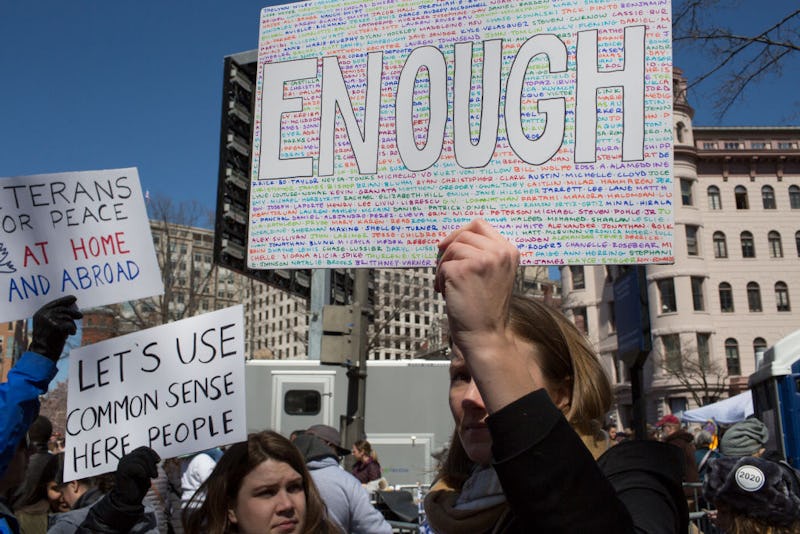 Getty Images/Andrew Lichtenstein / Contributor
It seems like every day the headlines are filled with more news about mass shootings. Recently, it was from Uvalde, Texas where a reported 21 people were killed in an attack at Robb Elementary school. At least 19 students and two adults were among those killed. It's still spring, and already 2022 has seen 27 school shootings, NPR reports. That's why thousands will take to the streets on Saturday, June 11 to support March for Our Lives, a youth-led movement that demands lawmakers act to prevent more instances of violence.
Gun violence has begun to feel commonplace as the years go by — too many shootings are still fresh in the minds of American citizens. The news about Uvalde came days after a mass shooting happened in a Buffalo, New York supermarket where a gunman allegedly carried out a racist attack, killing 10 people and injuring three others. One also can't forget about Sandy Hook, the Orlando nightclub shooting, and the San Bernardino shooting. Yet despite an increase in the frequency of mass shootings, gun control reform continues to remain a largely uphill battle in Congress.
If you're interested in joining the rallies this weekend, you can march in Washington, DC, or find a protest near you in one of the 450 (and counting) cities and towns that plan to host a march. If you can't make it to a March For Our Lives event but would still like to support gun reform, here are some more organizations you can donate to, as well as ways to stay informed.
1. March For Our Lives
March For Our Lives is a youth-led movement fighting for a future free of gun violence. The organization advocates for legislation to raise the national standards for gun ownership, centering communities through programming and marches, and amplifying the voices of gun violence survivors, and it's been fighting for the cause since 2018.
For more information, text MARCH to 954-954. Click here to donate to March Four Our Lives.
2. The Brady Campaign To Prevent Gun Violence
Commonly referred to as the Brady Campaign, this nonprofit is named after Jim Brady, a man shot and left permanently disabled during an assassination attempt on President Ronald Reagan in 1981. The organization takes a three-pronged approach to fighting gun violence. They seek to change laws, change the gun industry, and change culture, according to their website.
The group was instrumental in passing the Federal Assault Weapons Ban and Brady's Law, which mandates federal background checks for individuals purchasing a firearm. Currently, the group is lobbying for background checks to be extended to all gun sales.
You can support the organization's #Enough campaign here.
3. Everytown For Gun Safety
Made up of a coalition of Mayors Against Illegal Guns, Moms Demand Action for Gun Sense in America, and survivors of gun violence, Everytown For Gun Safety lobbies for gun control legislation on state and federal levels and also provides support services to survivors of gun violence.
Their aim is to bring the voices of "everyday Americans" into the fight to build safer communities. They advocate increased penalties for gun trafficking, education on responsible gun ownership and storage, and closing legislative loopholes that allow gun sales without background checks.
You can donate to Everytown For Gun Safety here.
4. Moms Demand Action
Mom's Demand Action, a part of Everytown, is a grassroots movement of Americans demanding reasonable solutions to address our nation's culture of gun violence, according to its Twitter. By making a contribution, you'll help fuel their volunteer-driven movement to raise awareness about gun violence, educate the public about gun laws and proper gun ownership, and mobilize grassroots supporters.
5. Giffords Law Center
Former Congresswoman Gabby Giffords started Americans For Responsible Solutions with her husband Mark Kelly, a retired Navy captain and astronaut, after she and 18 others were shot while holding a meeting in a grocery store parking lot in Arizona.
Both are outspoken about being "strong supporters of the Second Amendment" but seek to end the gun lobby's deep political influence and Congress' inaction on gun violence. Giffords Law Center joined forces with the Law Center to Prevent Gun Violence in 2016, and together work to implement change via a push for expanded background checks, federal funding for research on the cause and impact of gun violence, and stronger gun trafficking laws.
You can support the efforts of the Giffords Law Center here.
6. Violence Policy Center
The Violence Policy Center is using "research, education, advocacy, and collaboration" to take on gun violence and the gun and firearms industries. And the group must be doing something right, as the National Rifle Association dubbed them "the most effective … anti-gun rabble rouser in Washington." The group lobbies for gun control on local, state, and federal levels and has completed studies that have helped significantly reduce the number of gun dealers nationwide.
You can help the Violence Policy Center continue to take on the gun lobby here.
7. Johns Hopkins Center For Gun Violence Solutions
The Johns Hopkins Center for Gun Violence Solutions is part of the Johns Hopkins Bloomberg School of Public Health and is an organization that conducts rigorous research and uses advocacy to implement evidence-based, equitable policies and programs that will prevent gun violence in our communities, according to its Twitter. "Because gun violence disproportionately impacts communities of color, we ground our work in equity and seek insights from those most impacted on appropriate solutions," its website notes. Its aim is to provide evidence to push for change.
Donate to the organization here.
8. Alliance For Gun Responsibility
By collaborating with experts, civic leaders, and people in communities across the country, the Alliance for Gun Responsibility works to advocate for change in policies, promote education, and find evidence-based solutions, all in the hope of ending the gun violence crisis. By donating, you'll help support its community-led programs that aim to keep people safe from shootings.
Show support by donating to the Alliance for Gun Responsibility here.
9. CeaseFirePA
This is an organization that's dedicated to ending the gun violence crisis in Pennsylvania — a state where someone is killed with a gun every 6 hours, according to its website. Since 2002, CeaseFirePA has worked with experts, survivors, and advocates to bring impactful gun violence prevention legislation to Pennsylvania. In light of the shooting in Uvalde, CeaseFirePA is currently donating proceeds to Texas Gun Sense, a Texas-based organization fighting for evidence-based gun control policies.
Join the cause by donating to CeaseFirePA here.
This article was originally published on