10 Absurd Retweets You Never Noticed From Donald Trump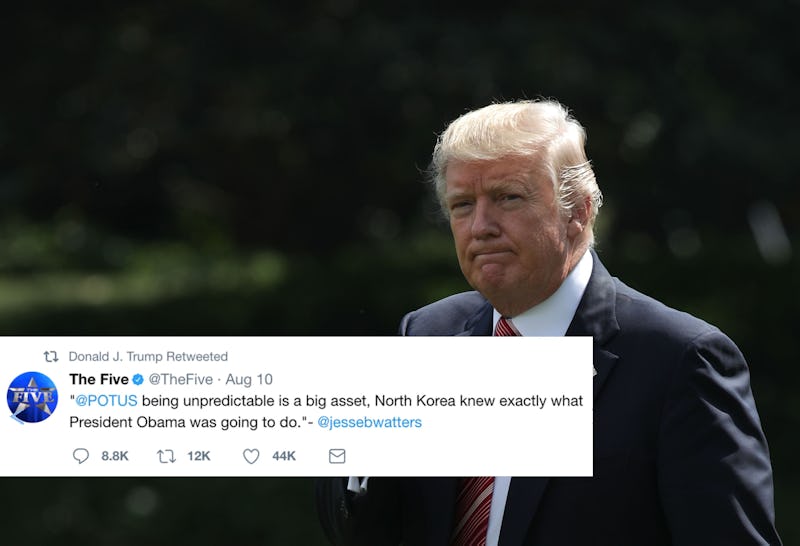 Getty Images
Nowadays, it's not uncommon to see headlines centered around President Donald Trump's tweets. Whether he's announcing new policy, hitting back at critics, or simply rallying his supporters, Trump has shown he prefers Twitter over the other means of communication available to him. Yet Trump's use of Twitter isn't without its problems. In fact, the president's tweets have often proved to be a source of controversy. But it isn't just what Trump tweets that lands him in hot water, it's what he retweets too. Similarly to his tweets, Trump's retweets on Twitter have sparked outrage and controversy on more than one occasion.
In the past, Trump has defended his social media habits as his means of fighting what he routinely calls the fake news media. "The FAKE & FRAUDULENT NEWS MEDIA is working hard to convince Republicans and others I should not use social media - but remember, I won the 2016 election with interviews, speeches and social media," Trump wrote in a tweet published July 2. "My use of social media is not Presidential - it's MODERN DAY PRESIDENTIAL."
While the jury is still out on whether Trump's tweets can truly be defined as modern day presidential behavior, some have begun calling for Twitter to ban the president, arguing he uses the social media network as a bully pulpit. So far, Twitter says it has no plans to ban the president, meaning that, for now at least, Trump is free to tweet and retweet all he wants.
Here are 10 absolutely absurd retweets from President Trump:
A Tweet Where Someone Called Him A Fascist
It's still unclear why Trump chose to retweet a tweet from Twitter user Mike Holden in which Holden called the president "a fascist." Holden was reportedly replying to a Fox News article regarding Trump's consideration of issuing a pardon to Arizona sheriff Joe Arpaio. Trump's retweet was deleted within minutes.
That Fox News Article Clearly Meant As A Dig At McConnell
While the president's love of Fox News is well known, his decision to retweet an article reporting he had raised the issue of Mitch McConnell resigning seemed to clearly be a dig at the Senate majority leader. No word, however, is Sen. McConnell is as avid a Twitter user as the president is.
An Article With Leaked Classified Info
In early August, Trump retweeted an article from Fox News which reported U.S. satellites had detected North Korea was moving anti-ship cruise missiles. U.S. Ambassador to the United Nations Nikki Haley later revealed things reported in the article were leaked classified information. Although Trump has often bemoaned leaks coming out of Washington and the White House, he has been repeatedly criticized for how he handles classified information himself.
This Poll
Earlier in the month, President Trump retweeted a Twitter poll conducted by a Twitter account with the name Progress Polls. The poll asked respondents "who is a better president of the United States?" with only Trump and Obama listed as options.
A Tweet Complimenting His Unpredictable Behavior
At a time when concerns about whether Trump's temperament and unpredictable nature might lead to conflict with North Korea, the president retweeted a tweet from Fox News' The Five. The tweet featured a comment from Fox News commentator Jesse Watters, in which Watters praised Trump's unpredictability as "a big asset."
An Electoral Map. In August.
What makes Trump' retweet of a map reportedly showing the 2016 presidential election results by precinct along with the caption "We won. Move on" so absurd is the fact that Trump posted it in August, some nine months after the election.
A Teenager's Rant Against CNN Reporter Jeff Zeleny
Last year, Trump borrowed the words of a teenage supporter to criticize CNN's senior White House correspondent Jeff Zeleny in a rather unorthodox retweet. Rather than retweet a Twitter user known as "Filibuster" directly, the president copy and pasted Filibuster's tweet, along with his username, and then added a few words of his own before publishing it to his own account. Filibuster sought to clarify where his comment ended and the presidents began.
That "Best Eclipse Ever" Meme
In retweeting an absurd four-panel eclipse meme on Aug. 24, the president appeared to be declaring himself the moon and former President Barack Obama the sun. The meme shows a full-color smiling Trump slowly "eclipsing" a black and white Obama and was originally posted to Twitter with the caption "THE BEST ECLIPSE EVER."
However, aside from hinting at a possible superiority complex, Trump's retweet also drew criticism as the meme's original poster had also tweeted an antisemitic statement a few days earlier.
A Cartoon Depicting The Trump Train Mowing Down CNN
On Aug. 15 Trump retweeted a cartoon depicting the "Trump Train" mowing down a figure edited to represent a CNN reporter. Trump's retweet came just three days after a white nationalist rally in Charlottesville, Virginia ended in deadly violence when a rally-goer plowed his car into counter-protesters, killing one person and injuring 19 others.
The president, or someone working for him, later deleted his controversial retweet, which many feared would incite more violence.
His Own Tweet Depicting Him Wrestling CNN
In July, the president used his official POTUS Twitter account to retweet a controversial video from his personal realDonaldTrump account. In the video, which was taken from one of Trump's appearances on WrestleMania, Trump appears to tackle and punch a man with the CNN logo superimposed on his head. Critics argued the president's tweet could incite violence against journalists.