Here Are All The Best Travel Deals About To Hit On Black Friday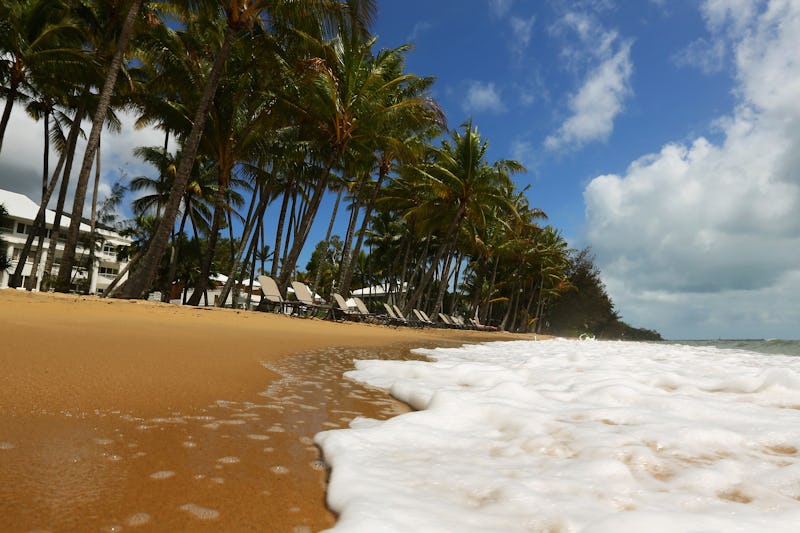 Mark Kolbe/Getty Images News/Getty Images
Forget about stalking Amazon or fighting your way through an IRL department store to find the best deals on clothes or electronics during Black Friday. After the 2018 we've all just experienced, what we need is a vacation, honey. So save your Black Friday doll hairs for where it really counts: gettin' the heck outta here and doing some much-needed traveling. Black Friday travel deals for 2018 are going to be aplenty (same goes for Cyber Monday, too!), so if you're looking to see some new sights, it's worth it to peek at your Black Friday and Cyber Monday options — because flights, cruise packages, hotels, and even travel-friendly items will be deeply discounted and yours for the taking.
If last year was any indication, both Black Friday and Cyber Monday travel deals will be off the hook. Everything from airfare and hotels to travel packages and even luggage has the potential to be on major discount. "Booking sites, cruise lines and resorts alike are eager to sell inventory for the post-holiday period," explained BlackFriday.com on its site. "You'll find airlines offering heavily discounted tickets on certain routes and travel sites offering flash deals on vacation packages." In other words, if you're looking to get out of town post-Thanksgiving, Black Friday's sales will be a great time to solidify your plans on the cheap.
According to a survey released by Priceline, 40 percent of Americans say that after the events of 2018, the vacation they need most is a recharging, relaxation-based trip. Um, yes, this feels very real — and gives us all the more reason to justify splurging on a Black Friday travel deal, right? The survey also noted that more than half of Americans plan to use more vacay time next year than they did this year — so if a vacation is on the wish list for you in 2019, it's definitely worth it to see if you can score that flight, cruise package, or hotel deal at a lower price during Black Friday's flash sales.
It's pretty likely that almost every major airline and travel site will be offering some sort of Black Friday-related discount (especially if last year's crazy-good deals are any indication) — but it's important to keep in mind that most companies are reportedly not dropping the deets about their sales until the day or two before Black Friday itself, so the suspense is on. That said, it's easy to keep tabs when info does roll out thanks to flight aggregate SkyScanner, which is reportedly posting every major flight-related Black Friday and Cyber Monday deal it can find. It's also rounding up hotel discounts and car rental deals, too. Those pages (and the individual company pages linked on them) will reportedly be updated as deals are announced. Keep an eye on it, and don't stop hitting refresh until you've booked the getaway of your dreams.
Thankfully for those of you who don't have patience, a few companies have already confirmed without a doubt that Black Friday 2018 travel deals will, in fact, be happening. Check out these deals you can count on — but be sure to keep your eyes peeled for all the day-of deal announcements, too.
Cheap Caribbean
If you're looking to vacation to the Caribbean or Central America, now's your chance. This travel agency is reportedly offering up to a whopping 75% percentoff trips to its most popular destinations (including Bahamas, Cancun, Dominican Republic, Jamaica, and Los Cabos) through May 2019. You have until Nov. 26 to book, so don't miss out.
Delta
Exactly which flights will be discounted on Delta isn't available yet — but there will be Black Friday deals. "With Delta, you'll find some of the best Black Friday flight discounts of the season," shared the airline on its "Black Friday Flight Deals" web page. "Save on Delta flights to Asia, Europe, South America, the Caribbean and more." Peep Delta's site after Thanksgiving dinner to see what they unroll.
Friendly Planet Travel
This travel site is dedicated to linking customers to their travel expters and creating customized trips. While their site doesn't appear to have released details just yet, it has posted a page on its site that instructs visitors to check back on Nov. 19 for Cyber Monday info — so it's safe to assume that deals are sure to follow.
Expedia
While the specifics of Expedia's Black Friday deals haven't yet been announced, they already have their Black Friday sale page up and running. The site advises visitors to check back at 9 a.m. PT on Nov. 23, at which time Expedia will be offering a very limited amount of 75 percent off coupons for select hotels and more.
Hotels.com
According to Smarter Travel, Hotels.com will be hosting an exciting Black Friday mystery coupon giveaway, offering discounts on hotel deals ranging from seven to 99 percent off between Nov. 23 and Nov. 26. Visit Hotels.com for deets on those dates.
InterContinental Hotel Group
With more than 5,000 properties worldwide, this company's Black Friday deals are not to be missed. The sales start at 25 percent off, and you can find deals in some of the world's most exotic locales. Trips apparently must be booked between Nov. 23 and Nov. 30 for travel dates between Nov. 26 and the end of March 2019.
Intrepid Travel
This company, which offers group tours and more to a variety of exotic destinations around the globe, is hosting a giant cyber sale that runs through Nov. 30, offering 20 percent off everything online.
Liberty Travel
According to Smarter Travel, if you book a trip package through Liberty Travel between Nov. 23 and Nov. 27, you're eligible to get a $400 discount, plus an air credit of up to $100 for another person (additional details may apply). Apparently this link will have the details, but it reportedly won't be live until Nov. 23, so check back then for major savings.
Student Universe
If you're a student, you're in luck. Not only is this travel company going to drop insider deets on tons of student travel deals come Black Friday, it's also running a giveaway for a chance to win a $500 credit just for signing up. Deadline to enter is Nov. 22, so get on it!
Xanterra Travel Collection
This agency offers trips to some of the most diverse and stunningly beautiful locations around the globe, and it'll be offering up to 50% their brands during its Cyber Monday sale, plus even steeper discounts for some of their affiliate properties. While the discounts will only be good on day-of Cyber Monday purchases, you can browse the deals now and start planning.
Did you know that you can find Black Friday coupons at the Bustle Coupons page? Bustle Coupons is a service provided by Groupon in collaboration with BDG Media, Inc. Each time you use a coupon or promo code from Bustle Coupons to make a purchase, Groupon and BDG Media, Inc. earn a small commission. This article was created independently from Bustle's sales department.