10 Books About U.S. History That May Change Your Opinions Of The Founding Fathers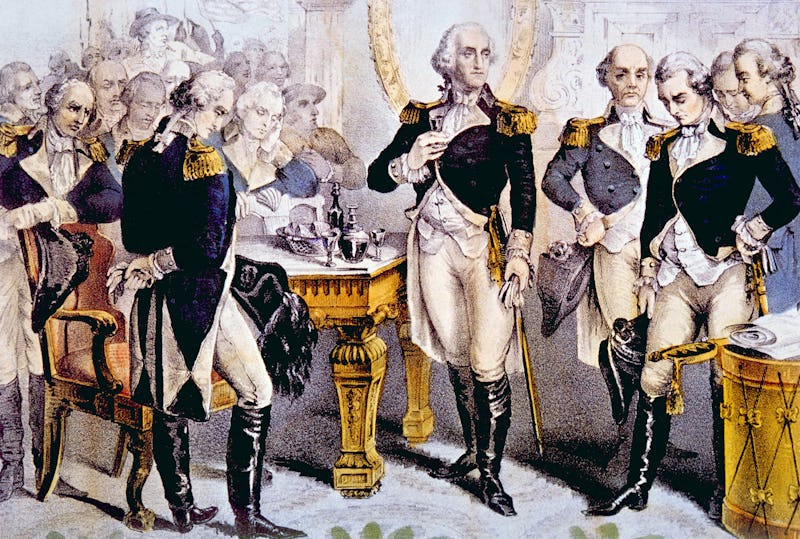 General George Washington taking leave of the officers of his army, December 4, 1783, lithograph by Nathaniel Currier published 1848, courtesy of Everett Historical/Shutterstock.com
Since 1776, July 4th has been devoted to celebrating the U.S. and its history, which includes the veneration of the Founding Fathers — seven white men who framed and founded the nation. Not everyone in the U.S. sees July 4 as a reason to celebrate, which is why I've picked out 10 books about America that may change your opinions of the Founding Fathers, so that you can shake up your reading list this Independence Day.
Who should and should not be considered among the Founding Fathers is a matter of some debate, but many historians generally agree that John Adams, Benjamin Franklin, Alexander Hamilton, John Jay, Thomas Jefferson, James Madison, and George Washington were instrumental in generating support for the American Revolution and creating the early U.S. What you're sure to notice about these seven people is that they were well-educated, mostly rich, and all white and male — not exactly the most diverse or unbiased group of folks to ever go into business together, right? As a result, the U.S., as an institution, prevented people who were not wealthy, white men from having basic rights for centuries, and it continues to do so today.
Of course, if you went to school in the U.S., you probably haven't heard much about this at all. Most curricula teach that the Founding Fathers were unquestionably good, wizened men who created the greatest country in the world, but the reality is that the seven figures listed above were largely slave-owners and supporters of slavery who were, on average, about 37 years old on July 4, 1776, and who created a nation that has just as many problems as any other. The Declaration of Independence might say that "all men are created equal," but the laws the Founders enacted, and the structures they built, belied that bold assertion to King George III.
Here are 10 books that may change the way you think about the Founding Fathers of the U.S.